Watch Video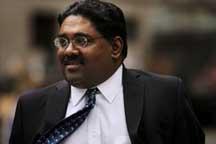 Play Video
Galleon Group hedge fund founder, Raj Rajaratnam, has been found guilty of 14 charges of securities fraud and conspiracy. It's a vindication of the US government's use of aggressive tactics in prosecuting insider trading on Wall Street. But Rajaratnam says he plans to appeal.
Former billionaire and hedge fund founder Raj Rajaratnam exited the courthouse on Wednesday, after being found guilty on all 14 counts in his historic insider trading case.
His lawyer, John Dowd addressed reporters. John Dowd said, "We are going to take an appeal on this conviction. We started out with 37 stocks, we are down to 14 so the score is 23 -14 in favor of the defense."
Rajaratnam was found guilty of using secret information from insiders at companies to get an unfair advantage in the stock market - illegally making 64 million dollars. He sat expressionless as the verdict was read in a Manhattan federal courtroom. He faces up to 20 years in jail.
The verdict is a vindication for the government's use of new, aggressive tactics in prosecuting insider trading- including wiretaps- and sends a strong message to Wall Street.
David Siegal, partner of Haynes and Boone, said, "The signal is if you are going to engage in questionable behavior trying to obtain an advantage from material, non public information watch out because the government is going to come and prosecute you, and if they catch you they are going to put you in jail, and they are not going to make any bones about it. That's a very strong message and it's a message that actually has a very strong deterrent effect in this community.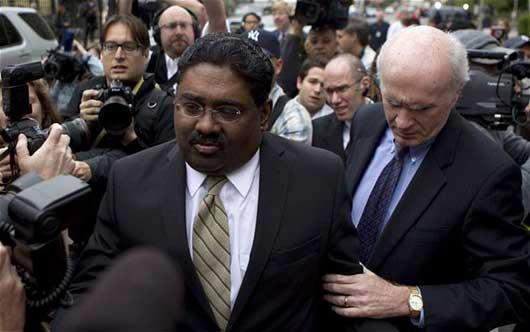 Galleon hedge fund founder Raj Rajaratnam departs Manhattan Federal Court in New York on Wednesday.
The successful use of wiretaps was also a warning that as ways of communication evolve, so will the government's tactics.
Columbia Law professor John Coffee said, "There are new kinds of message systems, twitter or whatever else that are harder to preserve but I think the government will find in time a way to get access to those as well."
Rajaratnam is under house arrest with an electronic monitoring device on $100 million dollars bail until his July 29th sentencing.
Editor:Liu Fang |Source: CNTV.CN