Watch Video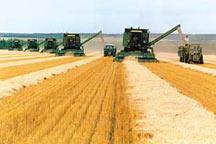 Play Video
China is the world's largest grain producer, and also the biggest grain consumer. So CCTV reporter Zou Yun takes a look at the impact of China's wheat harvest, on the international grain market.
The UN Food and Agriculture Organization has been paying close attention to China's grain situation for many years. This year's wheat harvest is expected by many to be a bumper season. The organization has made new forecasts on the world's grain supply.
Zhang Zhongjun, Assistant Representative of UN Food & Agriculture Organization said "The forecast for the wheat harvest this year is optimistic, judging from its current growth. The total output surpass that of last year, especially in China."
But just a few months ago, the forecasts from the same organization were a whole lot less bright. In February and March this year, the FAO warned that China may suffer wheat losses due to drought, and the reduction will then affect global wheat output. After the forecast was announced, the price of wheat rose steeply from a already-high level. In just half a year, wheat prices saw a dramatic 50 percent hike.
Zhang Zhongjun said "If China buys a large amount of grain from the international market, that will definitely impact global grain prices. But now China's wheat output looks steady and even growing, that's helping stabilize price expectations on the international market."
Experts also say expectations for China's wheat harvest will also impact the global economy. Grains are one of the basic products closely linked with the price of other commodities. The bumper harvest of Chinese wheat will go some way to stabilize global commodity prices and ease inflationary pressure.
Related stories
Editor:Xiong Qu |Source: CNTV.CN