Watch Video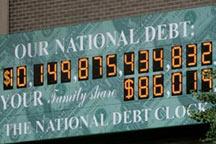 Play Video
Lawmakers in the U.S. House of Representatives have voted down a proposal to raise the debt ceiling. The rejection comes despite the White House saying not raising the debt limit would be "calamitous."
The House of Reps defeated the bill, in a vote staged by Republicans to strengthen their push for deep spending cuts in negotiations with the White House. By a vote of 318-97, the Republican-controlled chamber overwhelmingly rejected President Barack Obama's call to increase the 14.3 trillion U.S. dollar debt limit without conditions.
Tuesday's result comes after the Democratic-controlled Senate defeated three separate Republican budget plans in largely symbolic votes last week. The U.S. Treasury has been tapping alternate funding sources, such as federal employee pensions, to cover its obligations since the debt limit was reached on May 16th, but has warned it will run out of options if Congress does not act by August 2nd.
Editor:Xiong Qu |Source: CNTV.CN