Watch Video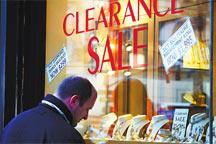 Play Video
Economic data out of the US has been unusually disappointing lately. On top of the recent bad news for manufacturers and employment, the month of May also turned out to be a difficult time for American retailers. Faced with higher prices for clothing, food, and gasoline, shoppers are becoming more choosy.
Recent data suggests the economy may be slowing. But consumers are still spending.
Sales at stores open at least a year rose 4.9 percent in May. However, that's down from nearly 9 percent in April.
Rising costs for food, gas and apparel, along with high unemployment are factors tempering sales. But one that gets less attention is the continuing drop in home prices says Steve Ricchiuto, Chief U.S. Economist of Mizuho Securities.
Steve Ricchiuto, Chief US economist of Mizuho Securities said "If your biggest asset is declining in value you feel a hit to your wealth. And if you feel a hit to your wealth, you feel a need to save more and I think that's really fundamentally what's going on here."
Coping with these headwinds - analysts say shoppers are becoming more choosy about how and where they spend their dollars.
Shopper of New York city said "It's rationalizing every purchase whether it's wants or needs."
And they're limiting shopping trips, heading only to places where they expect to get the most value.
Bilha Fruchter, Shopper of New York city said "I think still I'm tempted to buy clothing for work. But perhaps I will look to see if there's a sale going on."
Those discounts may be harder to come by. Retailers are facing rising input costs forcing many to hike prices - something that is backfiring with consumers.
Steve Ricchiuto said "If retailers think they're going to be able to jack prices up and this consumer is going to willy nilly take it on and there's nine percent unemployment, their home values are declining and they still have an uncomfortable level of debt, they got something else coming to them. It's not going to happen."
A tough prospect for retailers though good news at least for consumers, who would welcome a freeze in rising costs.
Editor:Xiong Qu |Source: CNTV.CN