Watch Video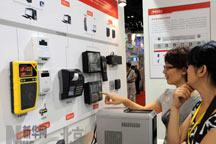 Play Video
The 2011 Internet of Things Expo has opened in Beijing, showcasing all the latest in digital technology. Chinese products are particularly popular because they're cheaper. But vendors say their quality can also match any other.
The Internet of Things showcases physical objects and their virtual representation in an Internet-alike structure.
Its main function is to build a connection between objects and Internet, so that recognition, management and control can be simplified.
This staff member is checking the basic information of goods, with the help of a handheld data acceptor.
With a quick scan, the detailed information of all the clothes can be grasped immediately. It's much more efficient than the traditional two-dimensional scanning. The biggest difference is in the label.
Zheng Ying, Exhibitor said "There is a chip inside the label which can store some information. It has an essential difference with the two-dimension code. For two-dimensional codes, you can only scan it when you see it. But with this one, you can scan it from a longer distance, and can scan a number of labels at the same time."
The science is in this tiny chip, just 0.1 millimeter is width.
It's Chinese-made, cheap and can apparently compete with the most advanced chips in the world.
Wei Fengchen, Exhibitor said "We can make the product more flexible. For instance, you can fold it, it can be made in various shapes, and will be applied in a wider range."
The expo is open free to members of the public. It closes on June 4th.
Editor:Xiong Qu |Source: CNTV.CN