Watch Video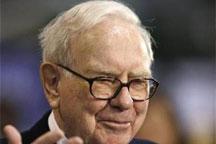 Play Video
How much would you pay to dine with the Oracle of Omaha? One enthusiastic bidder has agreed to pay 2.63 million U.S. dollars, for a steak lunch with U.S. billionaire investor Warren Buffett. The charity auction held on eBay set a record for the most expensive charity item ever sold on the website. It's the 12th year that Buffett has participated in the auction, which benefits San Francisco-based charity, the Glide Foundation.
The identity of the winning bidder could not be immediately determined after bidding closed Friday night.
The winner and up to seven friends will dine with the world's third richest person at the Smith & Wollensky steakhouse in midtown Manhattan. And the 2.63 million U.S. dollars they're paying for the privilege will go to the Glide Foundation, which provides social services to the poor and homeless in San Francisco.
Buffett will spend several hours discussing just about anything the winning bidder fancies. But there's one catch - the billionaire chairman and CEO of Berkshire Hathaway will not broach topics concerning potential future investments.
So how valuable is it to dine with one of the world's richest men? Here's Duan Yongping, founder of Guangdong-based BBK Electrics Corporation, who forked out more than 620 thousand U.S. dollars in 2006 to grab a bite with Buffett.
"The value of dining with Buffett is unmeasurable in money," said Duan.
Another Chinese bidder, Zhao Danyang, a Hong Kong-based investor, paid a then-record high of more than 2.11 million U.S. dollars in 2008 to share a meal with Buffett.
But rather than seeing it as an act of philanthropy, experts say it's more a way for the winning bidder to show off.
Prof. Zhou Xiaozheng, Renmin University of China, said, "This sort of show-off behavior could become rapidly well-known. But if you're really use the money to gain recognition, people might not be so interested."
Sima Pingbang, commentator, said, "For investors, it will definitely be good to get an assessment of your stocks from Warren Buffett."
The annual lunch auction is a huge revenue-generator at Glide, which operates on an annual budget of 17 million dollars. The charity estimates Buffett has raised nearly 9 million dollars over the past 12 years through the auctioned lunches.
Buffett has been slowly giving away the bulk of his fortune since 2006.
Editor:Shi Jierui |Source: CNTV.CN