Watch Video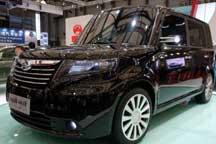 Play Video
Vehicles made in China are not a rare sight in Russia. Topping the list of these imported automobiles is the Great Wall series, as six stores and more than 80 dealers are established lots across the country. Xu Zhaoqun files this report from Moscow.
Hover is the best selling SUV in the Great Wall series, Moderate prices and excellent performance are the major characteristics attracting middle class customers.
A local resident said, "About cars made in China, actually,I don't know too much. But I'd prefer those imported from China, instead of those assembled here in Russia. Maybe imported cars are more reliable."
A vehicle dealer said, "Several years ago, when we began to cooperate with Great Wall, someone said this might be a risk, because nobody knew how vehicles from China would perform. The facts, today, prove what we did years ago was right"
Wang Peng, director of Great Wall Russian Int'l Office, said, "Customs regulations and logistics are still something we need to deal with, to further explore the market. No matter what challenges we have, we will stay. We are not visitors. New cars with auto transmissions are now on the way. They will bring our customers more surprises."
Editor:Liu Fang |Source: CNTV.CN