Watch Video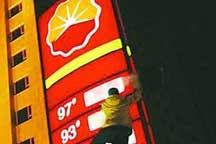 Play Video
Tumbling oil prices in the international market have fueled expectations that oil prices in China could also fall eventually.
To that end, many oil retailers are unveiling various discounts to drum up business. At one gas station near the fourth ring road in Beijing, many drivers are queuing for a cheap oil deal.
Oil vendors say retail sales prices of gasoline have been plunging every three to five days, to clear the way for cheaper, newly imported oil.
Figures show wholesale prices of oil sold by Petro China and Sinopec to most provinces plunged by more than 300 yuan a ton last month.
Experts say the ripple effect of plunging global oil prices will be passed to China as well, causing the domestic oil price to fall.
Editor:Liu Fang |Source: CNTV.CN