Watch Video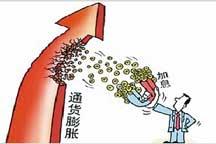 Play Video
Many experts have voiced concerns about the potential risks created by the rate hike.
Some are warning of attracting too much speculative 'hot money' into the country, if interest rates become even more attractive. That's in relation to rates in most Western countries, which vary between 0 to 2 percent.
Analysts say, China's regulatory authority should take steps to prevent the fast flow of hot money from impacting China's real economy. As the one-year yuan lending rate has been raised to 6.56 percent, the costs of small and medium-sized enterprises will also increase. Experts say, fiscal and tax policies also need tweaking, to alleviate some of the pressure.
Tan Yaling, Director, China Forex Investent Research Institute, said, "The companies' profit margins are narrowing and they are facing many pressures. The rate hike could exacerbate the situation. So the government should outline certain supportive policies to help the development of small and medium-sized enterprises."
Event background:
PBOC ups rates by 25 basis points

China's central bank has raised interest rates by 25 basis points, for the 3rd time this year. Experts say the move makes it clear that taming inflation is the top priority for the government.
More analysis:
Rate hike to tame soaring inflation

The interest rate hike by the central bank was well within market expectations. Analysts say the move is aimed at taming stubbornly high inflation, which is at a staggering 5.5 percent for the month of May.
Rate hike influence:
China rate hike causes jitters in global capital markets

News of China's rate hike and Portugal's credit downgrade have caused jitters in the global capital markets. But the U.S. equity markets bucked the trend, with Wall Street's three main indexes pushing higher.
Preview:
Experts hold mixed views on further interest rate hike

While the dust has barely settled on this latest rate hike, economists and market-watchers are already talking about whether the central bank might raise rates again this year.
World struggle against inflation:
Emerging economies use rate hikes to control inflation

China is not alone in its struggle against soaring prices. Central banks in many emerging economies have used interest rates to control mounting inflationary pressures this year.
Editor:Liu Fang |Source: CNTV.CN