Watch Video
Play Video
Major floods in South Korea have destroyed close to 6 thousand hectares of farm lands. As a result, fruit and vegetable prices have shot up, some as much as three fold.
Ms. Kim has been operating a vegetable store for 5 years. She says that after the torrential rains over the last week, there has been a major supply shortage. Vegetable prices have climbed by 10 to 35 percent on average, and the most common vegetables, such as cabbage and radish, are 3 times more expensive. Ms. Kim says she has lost a significant amount of business.
Ms. Kim said, "Radish prices have gone up the most. Because of the rain, all the vegetables were soaked and have gone bad, especially vegetables like lettuce and cabbage."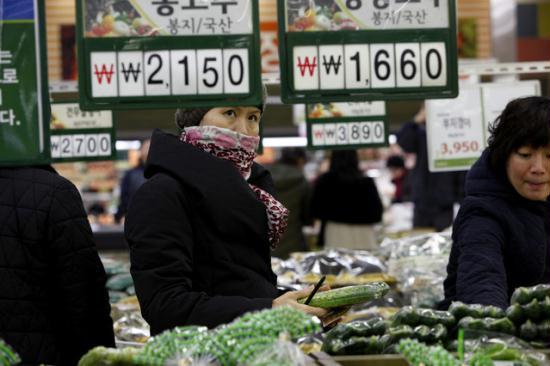 A shopper looks at prices in the vegetable section of a Hanaro Mart in Seoul.
Rice, beans and other crops have also been affected by the flooding. Their supply is mostly stable because of reserves from last years harvest, but farmers are not optimistic about next year's supply.
A Seoul resident said, "Everything is so expensive, we can't afford anything anymore. Especially vegetables like cabbage, green onion and lettuce. We have to eat less vegetables now."
The rising vegetable prices come as South Korea is already battling high inflation. The nation's CPI came in at 4.7 percent in July, far higher than the market expected and above the the government's target. South Korea's Ministry of Finance will hold a meeting on Thursday to further discuss climbing consumer prices.
Editor:Li Wanran |Source: CNTV.CN