Watch Video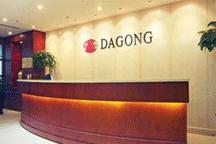 Play Video
Chinese rating agency Dagong Global Credit Rating has cut America's credit rating from A-plus to A. It is the first rating agency in the world to downgrade the country's credit rating. Zou Yun has more details.
Dagong Global says America's decision to lift the debt ceiling will not change the fact that the US national debt has outpaced its overall economy and fiscal revenue.
This could lead to a decline in its debt-paying ability. And that's why the Chinese rating firm downgraded its credit rating. This is the negative effect of the US federal government increasing the country's debt limit.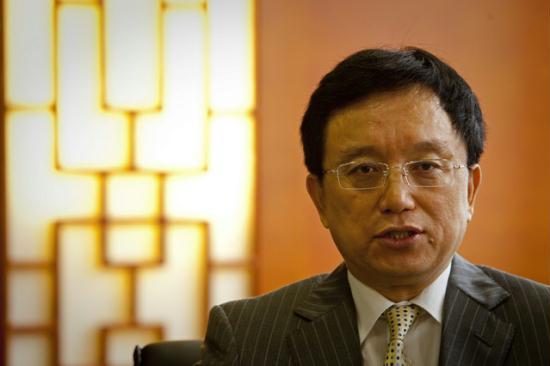 Guan Jianzhong, chairman of Dagong Global Credit Rating Co. Ltd. Photographer: Nelson Ching/Bloomberg
Guan Jianzhong, chairman of Dagong said, "The United States is just using its new debt to pay back its old debt. It's like taking from Peter to pay Paul. That's actually very dangerous, and prompted us to downgrade its credit rating."
Dagong Global says the downgrade is a result of fights between US political parties over debt issues, which reflects the government's inability to completely solve the debt problem.
Dagong predicts that in order to restrain its scale of liabilities in the coming 5 years, the US has to cut fiscal deficit by at least 4 trillion US dollars.
And judging from what they are doing now, Dagong Global says the size of US liabilities may outpace GDP by 2012.
Guan said, "With the debt crisis continuing, the US may implement another round of quantitative easing or over issue US dollar to ease its pressure, and that will lead to a serious debt crisis."
Dagong Global downgraded the US rating from AA to A plus in November after the US government announced a second round of quantitative easing. The agency says the approval to raise the debt ceiling indicates there will not be any positive changes in factors that will influence the country's debt-paying ability in the long run.
1. Responses to U.S. raising debt ceiling:
China urges U.S. to protect interests of its treasury investors
Zhou is urging America to take responsible measures to properly deal with its debt issues in a bid to protect the interests of investors in U.S. treasuries... full story>>
China may diversify forex portfolio
China, the largest foreign holder of US debt, is faced with the challenge of diversifying a massive foreign exchange portfolio endangered by a weakening dollar... full story>>
Studio interview: Should China diversity forex holdings against downgrading of U.S. credit rating?
What can China do to protect its foreign reserves, mostly made up of US Treasuries? Invest elsewhere? Where...full story>>
Asian nations welcome US debt solution
Many countries here in Asia are major holders of US Treasuries, so their economies are closely linked to that of the US... full story>>
Americans skeptical on US debt deal
The agreement made in Washington to cut more than $2 trillion in spending and raise the amount the U.S. government can borrow, is getting far from a resounding thumbs up from average citizens... full story>>
2. Market expectations & reactions:
Crossover: Market reactions & expectations for U.S. central bank after deal
The US debt ceiling has been raised. What's the reaction been in the US? We're joined by our corespondent Nathan King in New York... full story>>
Wall Street drops on economic concerns after Washington debt deal
The Wall Street closed sharply lower on Tuesday after Washington debt battle as investors lost confidence on economic recovery, with the S&P 500 hitting the lowest point for the year... full story>>
Asian stocks fall amid US debt worry
Stock markets across East Asia are down on worries about a possible cut to the US debt rating... full story>>
S.Korean financial markets fall into panic on U.S. double-dip concerns
South Korea's financial markets fell into panic on Wednesday due to renewed concerns that the U.S. economy may enter into double-dip recession... full story>>
3. Analyses of impacts of US debt crisis:
China: Impact of US debt crisis on China
According to some experts, the main impact for China lies in the import and export sectors which are closely related to the Reminbi's exchange rate against the dollar... full story>>
China: US debt crisis's impact on China's investment
we're joined in the studio by Xu Sitao, Chief China representative for The Economist Group. What impact will the US debt crisis have on China's investment in the US... full story>>
U.S.: Impact of debt deal on Obama administration and U.S. economy

The US will be going to the polls for a presidential election next year, so what impact will the debt deal have on the Obama administration and the US economy? Let's turn to Professor Richard Cooper in the studio... full story>>
World: US debt deal's impact on global economy
The world economy has suffered a lot throughout their negotiations. So what impact do you think the debt crisis will have on the global market? we are joined by Doctor Liu Youfa, vice president of the China Institute of International Studies... full story>>
4. Challenges remain ahead:
U.S. debt deal raises future concerns
The problem is far from being solved. The US debt crisis has worsened, especially in recent years... full story>>
Relief short-lived, bigger cuts needed to resolve U.S. debt problem
A last-minute deal on the US debt ceiling brings welcome relief, but further negotiations involving much bigger cuts will be needed to resolve America's debt problem... full story>>
Interview: US debt crisis over or postponed?
Is the crisis now over or simply postponed? Could you outline the challenges which lay ahead? We are joined in the studio by Professor Richard Cooper from International Economics at Harvard University... full story>>
Studio interview: How does U.S. get out of the vicious circle of using new debts to repay old ones?
A last minute deal to raise the debt ceiling, but as we just heard, the US' debt problem is far from over. Essentially, the US is using new debt to repay old debt. How does it get out of that vicious cycle... full story>>
Related stories
Editor:Li Wanran |Source: CNTV.CN