Watch Video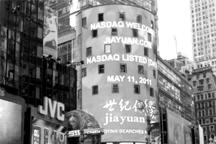 Play Video
Several overseas investors have been short-selling Chinese concept stocks in recent months amid a series of scandal involving Chinese companies going public overseas. The selling has led to a decline in the share price of these companies.
Spreadtrum Communications Inc., is a chip manufacturer listed on the Nasdaq, and a victim of the short-selling scandal.
They were forced to refute charges of financial fraud raised by a U-S firm called Muddy Waters.
Li Liyou, chairman of Spreadtrum Communications Inc. said, "First of all, it's classless. Secondly, it's superficial. Thirdly Muddy Waters doesn't understand our fundamental operation. Fourthly, all their accusations are false. We explained all 15 doubts raised by them. Actually we responded in the second day of their accusations, they apologized on the third day."
The prompt response helped Spreadtrum Communications gain back investor confidence.
Fei Guoping, CEO from China Merges & Acquisitions Association said, "Cases like Spreadtrum Communications, Inc. is a typical example to short-sell a company. Muddy Waters's accusations report will cause certain fluctuations of the stock market by and large."
The reason for the short selling of China concept stocks on the U.S. stock market is easy to understand.
When speculators focus on Chinese concept stocks, a number of firms were unfairly attacked.
Zhang Lianqi, consultant expert from Internal Control Committee of Ministry of Finance said, "I think some people on Wall Street are trying to mislead investors about Chinese concept stocks. Of course I admit we might have a few 'bad apples' but it's not as bad as they say -- that almost all are blacklisted. It doesn't match the rapid growth situation happening now in China."
U-S markets, with stock exchanges and investment banks winning business and investors finding opportunities can share in the fruits of China's rapid economic growth.
Zhao Xijun, professor from Renmin University of China said, "For large scale enterprises, they are the main body of China's economy. And speaking from the concept of these enterprises and public companies, therefore it's unreasonable to say China's enterprises are all doing badly."
Part of the perception problem lies in the fact that many Chinese enterprises have cooked their books or failed to publish financial information required under U.S. law.
To avoid future problems from arising, Chinese enterprises should seek ways to enhance their financial capability.
Editor:Li Wanran |Source: CNTV.CN