Watch Video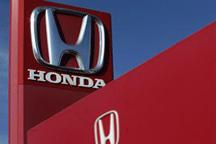 Play Video
Changing gears now and Honda's Chinese manufacturing joint ventures, Guangqi Honda and Dongfeng Honda, have issued the automaker's largest ever recall in China. A total of 2.5 million cars have been recalled worldwide, with nearly a third of those in China alone.
The recall began on Monday due to a problem with the automatic transmission affecting Accord, CR-V and other models produced from mid 2004 to late 2009.
Honda said the voluntary recall was prompted by concerns that the vehicle's transmission could be damaged if the driver shifts quickly between the reverse, neutral and drive positions. This maneuver is commonly done when a vehicle is stuck in the mud or snow.
The consequent damage to the bearing could cause the engine to stall or lead to difficulty engaging the parking gear. Such a situation could cause the vehicle's parking gear to jam and could make it roll.
To address the problem, Honda will update automatic transmission control software in the affected vehicles.
Zhou Guodong, deputy sales manager of Guangqi Honda said, "The update is very simple and will take less than half an hour per vehicle. The software update to the auto transmission control module will ease the transition between gears to reduce the possibility of damage."
The Japanese car maker is recalling 1.5 million vehicles in the US, over 760-thousand in China and more than 135-thousand in Canada. The total number is equal to about 65 percent of Honda's worldwide sales last year.
Yan Fengmin, director of enforcement division of AQSIQ said, "Being responsible for the safety of consumers is the most important responsibility of the manufacturer. We encourage recalls like these and will follow up with the results."
The models affected were sold before Honda had to deal with parts shortages following Japan's March 11th twin disasters that disrupted auto industry supply chains. Honda said no injures or deaths have been reported in relation to the problem.
Related stories
Editor:Li Wanran |Source: CNTV.CN