Watch Video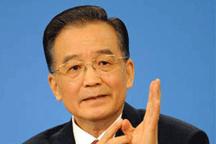 Play Video
Chinese Premier Wen Jiabao on Tuesday urged relevant nations to take concrete and responsible actions to resolve debt problems and bring confidence back to markets.
In a regular meeting of the State Council,Premier Wen said economic growth in China has been positive and steady so far this year and inflation control measures have taken effect.
He emphasized that it is important to maintain a balance between economic growth and battling inflation.
China's reactions towards U.S debt issue:
China concerned over US's economic management
The Chinese market is not the only stock market suffering a hit. Asian stocks nose-dived on Monday, as the first-ever downgrade of the US credit rating jolted the global financial system... full story>>
China will continue to diversify forex reserves
The US reached a last-ditch deal to raise its debt ceiling, but many say it only goes a short way toward slashing its massive debt. And China... full story>>
Downgrade of U.S. credit rating inevitable, China may diversify forex portfolio
China, the largest foreign holder of US debt, is still faced with the challenge of diversifying a massive foreign exchange portfolio endangered by a weakening dollar... full story>>
Analysis: Should China diversity forex holdings against downgrading of U.S. credit rating?
What can China do to protect its foreign reserves, mostly made up of US Treasuries? Invest elsewhere? Where... full story>>
China urges U.S. to protect interests of its treasury investors
The People's Bank of China is weighing on the US debt deal, which was signed into law by President Barack Obama, and will cut spending and raise the U-S debt ceiling... full story>>
Editor:Li Wanran |Source: CNTV.CN