Watch Video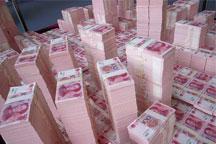 Play Video
The global economy is taking a beating due to uncertainties triggered by U.S. and Eurozone debt woes. And in China, concerns have arisen over the nation's fiscal deficit and security of treasury bonds. But the country's Ministry of Finance is playing down concerns, and is confident in China's overall fiscal health.
Li Yong, China's Vice Minister of Finance, says the country's fiscal state is currently healthy and the government has strong capacity to repay its debts.
Li said, "The proactive fiscal policy we're taking is very appropriate. China is in a sound fiscal situation, the government is strongly capable of repaying its debts, and there's huge room to issue treasury bonds."
According to figures released by the International Monetary Fund, the U.S.' deficit to GDP ratio exceeded 10 percent last year. And debts in developed economies piled up. Japan was burdened with debt more than twice its GDP.
But in China, the world's second-largest economy, the situation is much better.
Li said, "China's fiscal deficit was one trillion yuan in 2010. That's around 2.5 percent of its GDP. This year, the ratio has been reduced to nearly two percent. And the country's debt to GDP ratio is within 50 percent, way below the international warning line of 60 percent."
Li points out, local governments' debt totaled 10.7 trillion yuan at the end of 2010. That's nearly 27 percent of China's overall GDP. Currently, the country has achieved much in cleaning up the financial problems of local governments' financing vehicles, so its repayment capability isn't impacted.
Since the global financial system is becoming more complicated these days, the Chinese government says it will continue its proactive fiscal policy.
Li said, "Things have been getting more complicated of late, and it's hard to predict what will happen. The most important thing for us to do is to continue the proactive fiscal policy and prudent monetary policy."
In addition, Li says other measures will also be used to prepare the country for upcoming economic challenges.
Related stories
Editor:Li Wanran |Source: CNTV.CN