Watch Video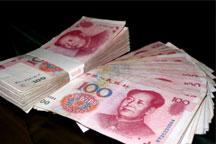 Play Video
Some see this round of bond issuance as the Chinese government working to consolidate Hong Kong's reputation as an international financial hub. But with dollar-denominated debt causing some headaches of late, others see the move as an attempt to reduce China's reliance on the greenback for trade. We take a look at the history of the yuan in Hong Kong.
Frequent travellers to Hong Kong would be familiar with the sight of currency exchange counters on every street corner. But before 2003, exchanging Hong Kong dollars into yuan was a much more complicated process.
Eight years ago, Bank of China (Hong Kong) was appointed as the first clearing bank for yuan in Hong Kong. Since then, Hong Kong has been able to offer a variety of financial services denominated in yuan - from savings accounts to currency exchange.
In July 2009, the yuan went one step further towards becoming an international payment currency. A slew of government regulatory reforms were carried out, and the yuan was well on its way to becoming a popular currency in Hong Kong.
He Guangbei, VP & CEO of Bank of China (Hong Kong) said, "In the recent years, yuan trade in Hong Kong has developed dramatically. Take savings transactions as an example. Just a year ago, yuan deposits in Hong Kong were around 100 billion. By the end of June this year, the amount had reached 550 billion yuan. That's 5.5 times more than before, a significant improvement."
Increasing use of the yuan in Hong Kong and a growing pool of yuan deposits in the region means a greater variety of financial products are now available in the Chinese currency. As a result, all eyes are now on the promising yuan bond market.
He said, "With the ever-growing Chinese economy, and the yuan becoming an international currency. The yuan plays an important role on the world stage. The yuan will ensure smooth cooperation between Hong Kong and the mainland."
A currency exchange agent in HK said, "Currency exchange between the yuan and Hong Kong dollar is so much more convenient these days - much better than it used to be."
Credit cards issued by Unionpay is also helping connect businesses between Hong Kong and the mainland. With the expected issuance of 20 billion yuan in bonds later this month in Hong Kong, one thing's for sure - the renminbi has become an integral monetary tool for both sides.
Editor:Li Wanran |Source: CNTV.CN