Watch Video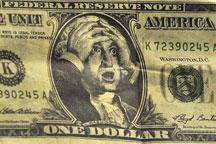 Play Video
The U.S. credit rating downgrade has not only prompted global economic instability, but is also posing a real threat to value and role of the dollar. Is the status of what was once the world's most important currency now changing?
The American dollar "is our money, but your problem". That was famously said by John Bowden Connally Jr, Secretary of the U.S. Treasury, in the early 1970s. But he never expected that 40 years later, America's currency would be the eye of a global financial storm.
Economist Tang Min said, "There must be some impact, but it doesn't mean that the U.S. dollar won't be the most important international currency. It's not THAT serious. The U.S. does have its own problems, but European countries are in bigger trouble in comparison. The U.S.' outstanding debt reached 100 percent of GDP, but Japan's debt to GDP is twice that. The dollar's role as the world's most important currency might be slightly weakened."
Under the post-World War II Bretton Woods System, the dollar was directly linked to gold. All other currencies were valued in terms of U.S dollars, and in that way linked to the gold standard.
But the Bretton Woods System was abandoned in the early 1970s due to rapid debt increases, unbridled printing of dollars, and the pressure to maintain the market price of gold.
Ding Yifan, Deputy Director of Dev't Research Center of State Council said, "In 1971, President Nixon unilaterally ordered the cancellation of the direct convertibility of the U.S. dollar to gold, abandoning the Bretton Woods system. This act woke up the Europeans, they started talking about a monetary cooperation mechanism and eventually created the Euro. All of which started with the dollar crisis."
The U.S. dollar is still maintaining its role as the most important international exchange currency. For example, key resources like crude oil are all traded in U.S. dollars. But the country's ballooning debt is causing many to be concerned the U.S. could sink deeper into the debt crisis.
Ding said, "The debt ceiling dispute itself doesn't constitute a debt crisis, but in time, with this direction of development, it will happen."
For some, the seemingly endless financial drama highlights the defects of the international monetary system.
Mr Ding adds, as a result, Asian countries have came up with the so-called "10+1" and "10+3" monetary union. Some analysts believe Asian economies will eventually find a way to get rid of the dollar standard international monetary system - and a dollar crisis is inevitable.
Editor:Li Wanran |Source: CNTV.CN