Watch Video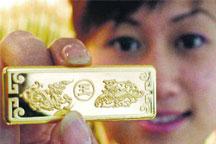 Play Video
The price of gold has recently appreciated at a frantic pace, due to the double blasts of the U.S. debt ceiling and credit downgrade. Despite the soaring prices, all that glitters is still gold for Chinese investors.
This is one of Shanghai's most famous gold stores. Even though the price of gold has surged from 422 to 442 yuan per gram in just three days, that hasn't dissuaded customers from flocking to the store. On the contrary - news of soaring prices are actually attracting Chinese buyers.
A gold investor said, "Prices of everything are rising, and gold will definitely appreciate too."
Gold prices have seen steady growth since 2008. But prices really began to skyrocket in July this year. And higher prices mean increasing investor enthusiasm.
Li Fuying, director of Flafship Store, Shanghai Laofengxiang Co. Ltd said, "Sales in the past few days have increased 50 percent compared with the same period last year."
However, experts say the main reason for the sky-high gold prices is the unstable international economy, which triggered the need for risk-averse investment. European and U.S. debt woes and global inflation are the major factors behind the spike in gold prices.
This potentially increases the risk of fluctuation in the mainland gold market.
Li Hui, analyst of Noble Metal Analyst in Foshan city said, "In just a week's time, the accumulative increase in gold prices was approximately 200 U.S. dollars per ounce. This means there is great risk in gold investment. Meanwhile, if regular investors used real gold to increase trade volumes, they might suffer losses once a price adjustment takes place."
Analysts suggest investors should focus more on market risks. They're advised to develop better trading habits, to become more flexible and confident when it comes to risk-aversion and market panic.
Editor:Li Wanran |Source: CNTV.CN