Watch Video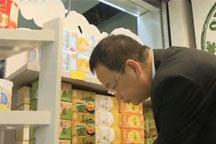 Play Video
The Mainland and Hong Kong Closer Economic Partnership Arrangement, or CEPA, took effect January 1st 2004. It was the first bilateral free trade deal signed between Hong Kong and the mainland. The arrangement offers preferential access to the Mainland market for Hong Kong, providing lower entry thresholds for smaller players and zero tariffs on 90 percent of Hong Kong exports to the mainland.
Huang Jiahe, CEO of Kampery, was one of the first entrepreneurs to benefit from CEPA. Kampery, famous in Hong Kong for producing coffee and tea, was established in 1993 after Mr Huang finished studying in the U.S. He wanted to expand his father's coffee business, especially to the mainland market. But at the time, private businesses in Hong Kong were unable to open shops or restaurants on the mainland, and taxes on goods manufactured in Hong Kong were as high as 25 percent. The signing of CEPA has made everything easier for Mr Huang.
Simon Wong, managing director of Kampery Development Ltd. said, "After the signing of CEPA on June 29th, 2003, we could export our products to the mainland without paying any taxes."
Under the CEPA, goods exported from Hong Kong to the Mainland are exempt from tariffs if they meet certain criteria. Goods have to be manufactured in Hong Kong for at least a quarter of the production process, in order to receive a Certificate of Hong Kong Origin. The tariff-free trade has lowered costs for Mr Huang.
Wong said, "With CEPA, we can also open privately-owned hotels in the Mainland. We couldn't even have our retail stores there before."
Soon after the CEPA took effect, Mr Huang opened more than 100 coffee shops and over 800 organic food stores in first-tier Chinese cities like Beijing and Shanghai. He also opened his own coffee manufacturing factory in Guangdong. Since 2003, more than 4,000 ventures have benefited from the agreement, from food and beverage businesses to logistics and accounting firms.
Editor:Li Wanran |Source: CNTV.CN