Watch Video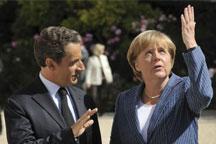 Play Video
Germany's disappointing second quarter GDP figure is also adding to global uncertainties ahead of French-German talks on the euro zone's worsening debt crisis.
French President Nicolas Sarkozy and German Chancellor Angela Merkel are scheduled to meet in Paris on Tuesday. The two will discuss what further measures they can take to contain Europe's debt crisis, which is now spreading to the continent's core.
Many experts believe the only way to ensure affordable financing for the bloc's financially distressed countries would be to issue joint eurobonds. Officials in Paris and Berlin say the meeting will not address that possibility.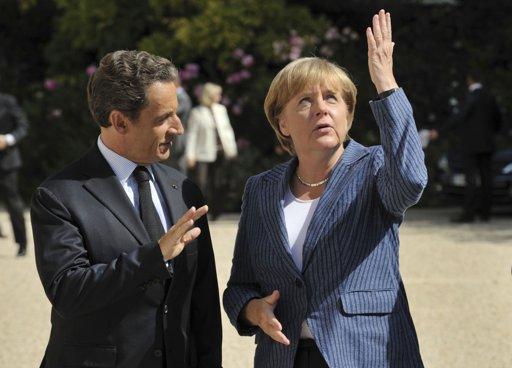 France's President Nicolas Sarkozy, left, welcomes German Chancellor Angela Merkel at the Elysee Palace, Paris Tuesday Aug. 16, 2011. (AP Photo/Philippe Wojazer, Pool)
The German government previously opposed the idea, but support is beginning to emerge. Germany's export association stated Monday that all other means of fighting the crisis had run out.
Sarkozy and Merkel will also focus on proposals to improve the euro zone's economic governance. The pair told fellow bloc leaders at last month's summit they would make an announcement by the end of August.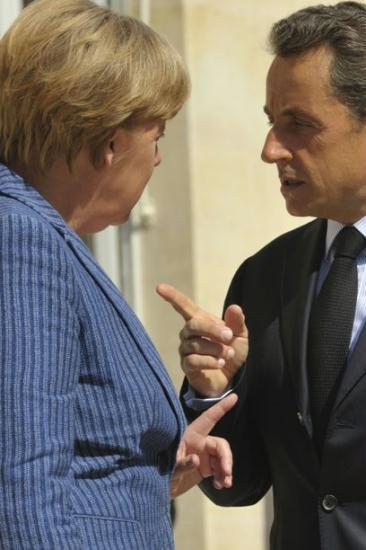 France's President Nicolas Sarkozy, right, and German
Chancellor Angela Merkel gesture to each other prior to
meeting at the Elysee Palace, Tuesday Aug. 16, 2011.
(AP Photo/Philippe Wojazer, Pool)
Editor:Li Wanran |Source: CNTV.CN