Watch Video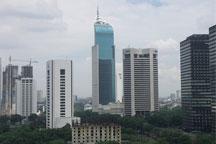 Play Video
Worries may be mounting for the global economy, but back here in Asia, Indonesia is targeting higher economic growth and steady inflation next year.
According to President Susilo Bambang Yudhoyono, the country aims to achieve 6.7 percent growth through increased spending in its 2012 budget, focused on infrastructure and improving the investment climate.
He aims to keep inflation at 5.3 percent. Southeast Asia's biggest economy has hummed along with 6.5 percent growth this year, while in recent months, inflation has fallen below the annual target.
The President is confident that the country can sustain economic growth even with the worsening global economic situation.
He said, "Even though the economic situation in Europe and the United States is not good news for the world, we have sufficient confidence to overcome that uncertainty."
Related stories
Editor:Li Wanran |Source: CNTV.CN