Watch Video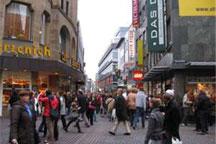 Play Video
The struggle for economic recovery dominated developments in Europe in the second quarter. The region's already fragile economy slowed, dragged down by Germany's sluggish performance.
Growth for the 17-euro zone countries increased just 0.2 percent, down from 0.8 percent in the first quarter.
Germany is Europe's largest economy and growth there has been the one bright spot as economic clouds gather across the continent.
However, German GDP growth missed expectations for the quarter - expanding just 0.1 percent. That's its lowest rate of growth since the first quarter of 2009.
Even Spain's debt-ridden economy grew faster at 0.2 percent.
Some analysts said the market had been caught by surprise.
Oliver Roth of Close Brothers Seydler AG said, "There were already a couple of investors very much concerned about the economic situation in the world but everybody was expecting that Germany will have a very good year. So we are really deeply surprised and concerned about the German GDP figures and that is what the market shows."
The euro also fell, further adding to worries over the state of the global economy.
But while many believe a common eurobond would be the best way to deal with the region's debt, some say Germany is right to be skeptical.
Roth said, "I am totally against the euro bonds. There are some advantages on the short term track like lower interest rates for the southern states of Europe but there are a lot of disadvantages, for example that Germany has to pay much more interest rates sooner or later."
The bonds in effect are IOUs issued to investors backed by the eurozone as a whole, rather than individual countries.
And the head of Germany's leading export association says without the eurobond, the world risks falling in to depression.
Related stories
Editor:Li Wanran |Source: CNTV.CN