Watch Video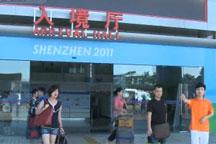 Play Video
Going through customs checkpoints to Hong Kong has become easier and faster in recent years. Favourable policies are in place to encourage exchanges between Chinese mainland and the region.
Mr. Tao is a driver at a Hong Kong company that offers passenger transportation services between Hong Kong and its neighbouring mainland city of Shenzhen.
He has to go through customs at Shenzhen Bay port each day for work. In the past, he dreaded the long wait times at customs. Now, things are much different.
Mr. Tao said, "You see, I don't even have to get out of the car to go through. It only takes a couple of minutes, a lot faster than before."
The convenient customs procedures have helped increase travel between Hong Kong and the mainland in recent years.
In 2010, 198 million people crossed the border through Shenzhen checkpoints to Hong Kong.
That figure is expected to run over 200 million this year.
The passenger transportation company Mr. Tao works for has also expanded significantly over the years.
The company only had three vehicles in 2003, now it has more than 100 cars and buses running on the highways.
Zhang Lixia, Vice President of Hong Kong China Huatong Co., Ltd. said, "Many passengers say taking a bus from Shenzhen to Hong Kong, or the Hong Kong airport, is just as easy as taking a city bus. In the past, it would take two hours to go through customs. Now, it takes half that."
Mr. Tao used to make 10-thousand Hong Kong dollars a month, a medium-to-low level income in Hong Kong.
Now that he spends less time waiting at customs, he can now make more round trips between Hong Kong and Shenzhen daily , his income has increased accordingly.
At 64-years-old, he couldn't help wishing for an even better life in Hong Kong for his new born grandchildren.
Related stories
Editor:Li Wanran |Source: CNTV.CN