Watch Video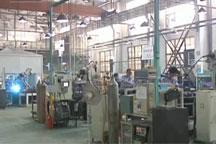 Play Video
Now we continue our 4-day focus on China's small and medium sized enterprises. Faced with mounting challenges, they have to restructure to ensure their long-term development. In today's third episode, our reporter Guan Xin looks into the restructuring process and the most pressing challenges they face.
The word "resturcturing" has become the doctrine for China's enterprises to survive, as the country aims to change its profile from the factory of the world.
However, small and medium sized enterprises are at a disadvantage. For a long time, many SMEs were engaged in low-end competition. Their innovation capacity lagged behind. The most needed elements for restructuring: capital, talent, and technology, were all lacking.
With the macro environment changing from higher labor costs to climbing production expenses, and the appreciation of the RMB, SMEs engaged in low-end manufacturing are finding their business model is on the brink.
Fang Zhenqun, GM of Xiamen Golden Dragon Auto Seat said, "Along with China's economic development, the low-cost of made-in-China products has gone. We have to face up to the new situation. The most important thing is that we should have our own intellectual property, innovation capacity, and continuous exploration of the market."
Mr. Fang runs an auto seat manufacturing company. From this year, they found the market had become much tougher than before. Their profit margin was just 3 to 5 percent. And this year, it is likely to be even less.
It's time to change. But the change comes at a big cost. It involves continuous training of employees, and cultivation of an R&D department.
And there is considerable risk: Mr. Fang invested 3 million yuan in new product development last year, in the hope that the new products would be a success. However, they've turned out a failure, and can't find any buyers. The project has been abandoned, and investment worth nearly half a year's profit, has been lost.
Fang said, "It's not right to give up innovation just because of one failure. Although we failed, we learned something from it. We should allow failures, to make innovation a lasting mission for the company. Or else, we will be eventually left out of the market."
It's a painful process, but it's the only way to survive tough competition. Take a 79 US dollar MP3 player for example, Chinese manufacturers have to pay 45 dollars in patent fees for buying the technology from foreign companies, and 32.5 dollars in production costs. They only earn 1.5 dollars in net profit. Such a pattern has become the barrier for change in China's economy.
Hu Jingpei, Chairman of Wanli Stones Stock said, "It's still a matter of mindset. Traditional industries usually have a thin profit. How to distribute the limited profit, how much in R&D, how much in brand promotion. It shows whether the entrepreneur has the long-term perspective for sustained development."
Mr Hu's enterprise is going to list on the small and medium sized enterprise board, and that could alleviate its shortage of capital to continue innovating. But still, many SMEs face difficulties in restructuring, especially in finding capital and talent. As the macro-environment pressures grow, this year may be pivotal for their survival.
Editor:Li Wanran |Source: CNTV.CN