Watch Video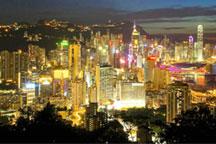 Play Video
First, the Chinese Vice Premier in Hong Kong. Sharing opportunities for common prosperity.
On his first visit to Hong Kong, Chinese Vice Premier Li Keqiang says the mainland and Hong Kong have had fruitful economic cooperation in the past. He announced a raft of measures to boost Hong Kong's service sector and financial industry - both pillars of the regions' economy.
The Vice Premier says the Chinese central government will actively support the growth of the RMB market in Hong Kong and its ambition to build itself into an offshore RMB center.
Li said, "We will support Hong Kong in developing itself into an offshore renminbi center. Hong Kong enjoys a natural advantage in developing the offshore renminbi business. The central government will actively support the growth of the renminbi market in Hong Kong, expand renminbi circulation channels between Hong Kong and the mainland, and support the innovation and development of offshore renminbi financial products there. Cross-border trade settlements in renminbi should be extended to cover the whole country. Pilot projects for foreign banks to replenish capital with renminbi will be launched, and support will be given to Hong Kong enterprises to make direct investment in the mainland in renminbi."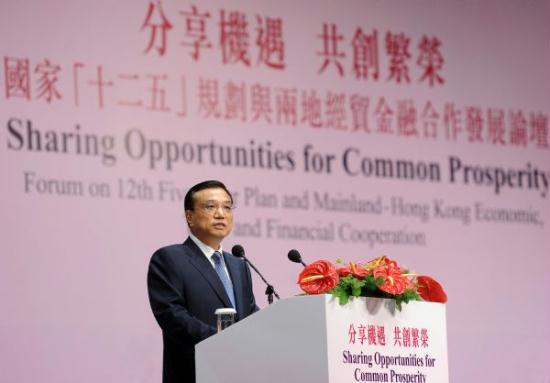 Chinese Vice Premier Li Keqiang delivers a speech at the Forum on 12th Five-Year Plan and Mainland-Hong Kong Economic, Trade and Financial Cooperation in Hong Kong, south China, Aug. 17, 2011. (Xinhua/Li Tao)
Li says the central government would expand access for Hong Kong companies to the mainland's service sector, and help Hong Kong beef up its status as a financial center by encouraging mainland companies to list on the city's stock exchange.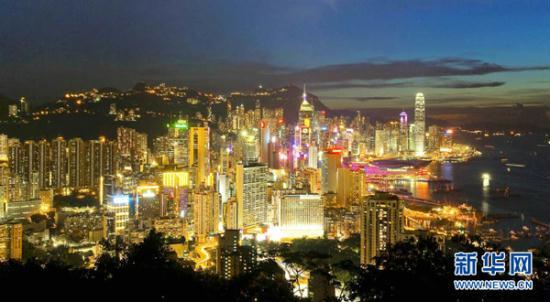 Photo taken on June 20, 2011 shows the night view of Hong Kong. (Xinhua/Chen Duo)
Li said, "Expansion of service sectors is important for the increase of enormous internal demand in China in the future, and to maintain the long-term stability of rapid economic development."
The Vice Premier also mentioned that RMB Qualified Foreign Institutional Investors, or RQFIIs, will be allowed to invest in mainland securities markets with an initial size of 20 billion RMB yuan.
Li noted the newest policies evidence the central government's resolve to support Hong Kong's development. He promised the central government will continue to contribute to the prosperity and stability of both Hong Kong and the mainland.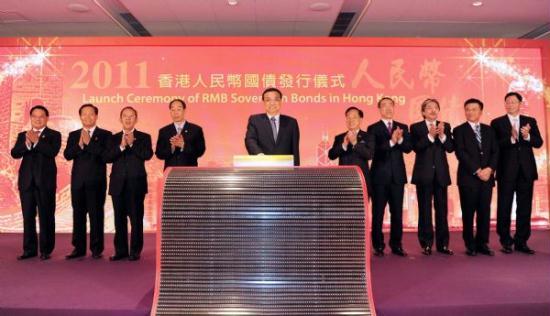 Chinese Vice Premier Li Keqiang (C) starts the launch ceremony of RMB sovereign bonds in Hong Kong, south China, Aug. 17, 2011. China's Finance Ministry on Wednesday issued RMB bonds of 20 billion yuan (3.13 billion U.S. dollars) in Hong Kong. (Xinhua/Li Tao)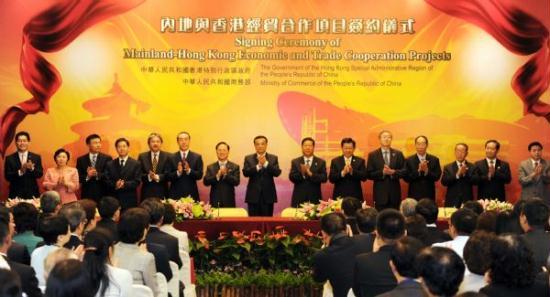 Chinese Vice Premier Li Keqiang (C) attends the signing ceremony of Mainland-Hong Kong Economic and Trade Cooperation Projects, in Hong Kong, south China, Aug. 17, 2011. (Xinhua/Li Tao)
Editor:Li Wanran |Source: CNTV.CN