Watch Video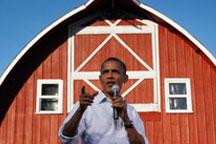 Play Video
U.S. President Barack Obama said on Wednesday he will propose a plan in September to jump-start the U.S. economy, as he struggles to convince skeptical voters that he has something new to offer.
President Obama is keeping the focus on the economy as his bus tour rolls through the midwest.
At a townhall meeting in Illnois, he said he has a new plan to jump-start the economy.
Obama said, "As I've already presented, I did earlier this year a plan that says we're going to have spending cuts and we're going to have revenue. We'll have more spending cuts than we'll have revenue. But we're going to have to take a balanced approach and everything is going to be on the table."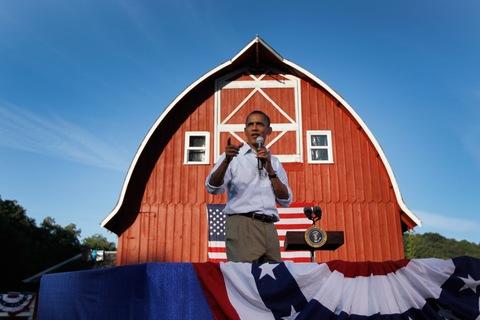 President Obama speaks at a town hall meeting Monday at the Seed Savers Exchange in Decorah, Iowa. Photo by Joe Raedle/Getty Images.
He also said that handling the U.S. defecit won't require radical surgery.
Obama said, "When you've got many trillions of dollars worth of housing stock out there, the federal government is not going to be able to do this all by itself. It's going to require consumers and banks and the private sector working alongside the government to make sure that we can actually get housing moving back again. And it will probably take this year and next year for us to see a slow appreciation again in the housing market."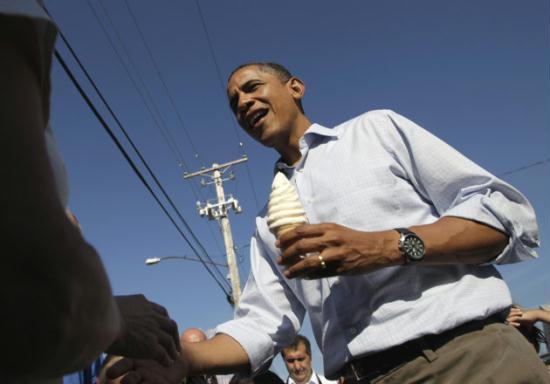 Carolyn Kaster - President Barack Obama holds a soft serve ice cream cone and shakes hands during his visit to DeWitt Dairy Treats, Tuesday, Aug. 16, 2011, in DeWitt, Iowa, during his three-day economic bus …more tour. (AP Photo/Carolyn Kaster)
Republicans weren't impressed. Campaigning in New Hampshire, Texas Governor, Rick Perry, had this to say:"Mr. President, actions speak louder than words. My actions as governor are helping create jobs in the country. The president's actions are killing jobs in this country. It's time to get America working again."
Campaigning in North Carolina, Minnesota congresswoman, Michele Bachmann, echoed similar sentiments.
The latest Gallup poll showed Obama with a 39 percent approval rating --- the lowest of his presidency.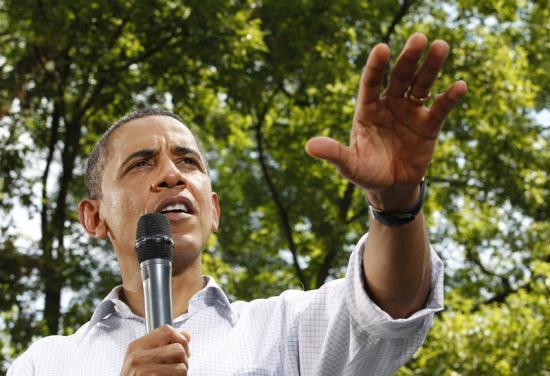 U.S. President Barack Obama makes a point during a town hall-style meeting in Cannon Falls, Minnesota August 15, 2011. Obama is traveling on a bus tour through Minnesota, Iowa and Illinois. (Xinhua/Reuters Photo)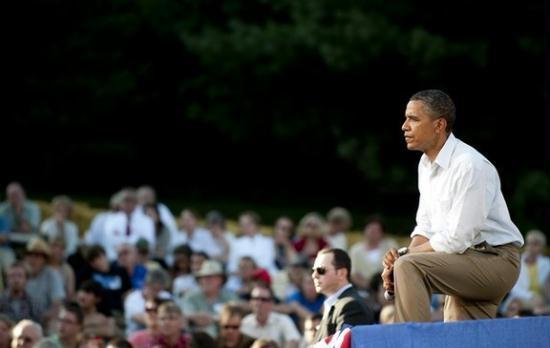 US President Barack Obama listens to questions as he speaks at a town hall style meeting in Decorah, Iowa, August 15, 2011, during his three-day bus tour in the Midwest centering on ways to grow the economy.
Related stories
Editor:Li Wanran |Source: CNTV.CN