Watch Video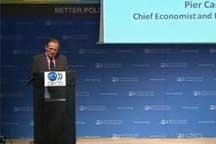 Play Video
The Organization for Economic Cooperation and Development, or OECD, has downgraded its growth forecast for 2011. The outlook is just over one percent for G7 countries, excluding Japan.
The OECD is warning of a significant slowdown in major economies, under the weight of government belt-tightening and falling consumer and business confidence.
The message is clear - the world's top economies should do more to stimulate growth.
The Organisation for Economic Cooperation and Development warns G7 and G20 members, the economic outlook remains gloomy.
Even Germany, the economic success story of the Euro zone, is expected to contract by up to 1.4 per cent in the fourth quarter.
OECD chief economist, Pier Carlo Padoan, says it's now vital for banks to keep rates low, and for the G7 and G20 to do their part.
Padoan said, "It would be great if they take the opportunity of sitting around the same table to own a message like this: 'being concerned about restoring confidence in the two dimensions.' And therefore appropriately send a collective signal."
The OECD estimates that growth across the Group of Seven industrialized nations will be 1.6 per cent in the third quarter, but will fall to 0.2 per cent in the fourth.
The warning comes as G7 Finance Ministers prepare to meet in Marseille, beneath a dark cloud of concern over the global economic downturn.
As final preparations for the summit are underway at the historic Palais du Pharo in Marseille, markets are waiting anxiously to see if the ministers can come up with a plan to kick-start the global economy.
Editor:Li Wanran |Source: CNTV.CN