Watch Video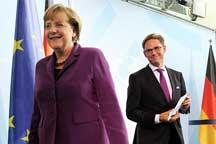 Play Video
Major leaders in Europe are giving their two cents on how to fix the double debt crises of Greece and Italy. German Chancellor, Angela Merkel - arguably the most influential woman in Europe right now - says the region is doing everything possible to prevent a Greece debt default. As for Italy, European Council president Herman Van Rompuy is giving top priority to fiscal reforms.
German Chancellor Angela Merkel met with Finnish Prime Minister Jyrki Katainen on Tuesday to discuss Greece's second bailout package - amid growing concerns about the health of the euro zone.
Finland is demanding collateral in exchange for committing to a new loan for Greece, which will otherwise run out of cash next month.
Merkel expressed confidence a solution would be found.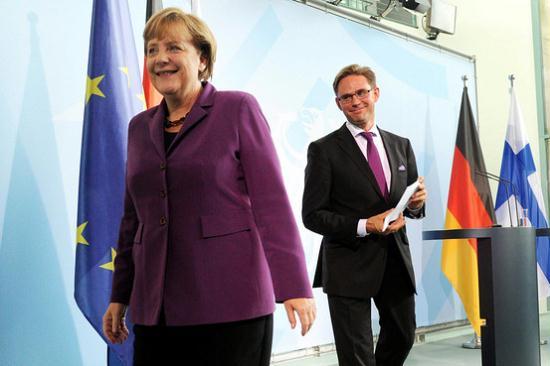 German Chancellor Angela Merkel (L) and Finnish Prime Minister Jyrki Katainen (R) after a
joint press conference following their meeting at the Chancellery in Berlin Tuesday.
Merkel said, "I believe that all of us want to and will find a path, a way forward that is open to all partners but is still in line with the Finnish wishes. Our experts are currently working on this."
The U.S. is worried, and has taken the unprecedented step of sending Treasury Secretary Timothy Geithner to a meeting of EU ministers in Poland on Friday.
Meanwhile markets are also piling pressure on Italy.
A closely watched auction of the country's debt on Tuesday saw the highest yields since joining the euro in 1999, giving no assurance Rome will be able to fund itself normally any time soon.
After meeting with Italian Prime Minister Silvio Berlusconi, European Council President Herman van Rompuy stressed Italy's reforms were important for the entire euro zone.
EC president Herman Van Rompuy said, "We also discussed the measures the Italian government will soon implement to reinforce economic growth and assure the sustainability of public debt in the future. The fiscal discipline and the reforms for growth are essential for market confidence."
The Italian parliament is due to vote on a crucial austerity package on Wednesday.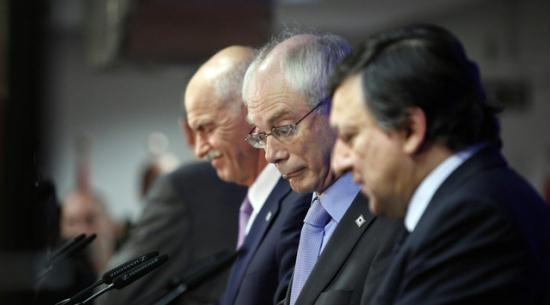 File photo: From left, Greek Prime Minister George Papandreou, European Council President
Herman Van Rompuy and European Commission President Jose Manuel Barroso participate in a
media conference after an EU summit of eurogroup members at the EU Council building in
Brussels on July 21, 2011.
1. EU reactions towards Greek debt crisis:
EU frets over possible Greek default
Only one day after the Greek government revealed its austerity measures, Greek bond yields rose by nearly a fifth, to 117 percent. An increasing number of market players believe it would be difficult for Greece to avoid default... Full story>>
Merkel rejects Greek default
German Chancellor Angela Merkel says Europe is doing everything in its power to avoid a Greek default. She comments during a radio interview aimed to quell those fears... Full story>>
2. Asian attitudes towards Greek debt crisis:
China has confidence in Europe
China says it's confident in European countries' ability to handle their debt. But the Chinese government has also sought assurances, that Europe would ensure the safety of Chinese investments in the region... Full story>>
Japan expects EU efforts to avoid Greek default
Japan says it expects Europe to make every effort to prevent Greece from defaulting on its debt. The Japanese Finance Minister says Tokyo will await talks within the region on how to deal with the crisis before considering offering financial aid to the area... Full story>>
India: European debt a matter of concern
India's finance minister says the "lengthening shadow" of the debt crisis in Europe is cause for concern... Full story>>
3. Analysis:
Interview: Impact of EU debt on China
What will happen if Greece defaults, which is looking like a virtual inevitability? Will there be a domino effect, and what will be the impact on Asian economies? With all the ongoing euro zone debt drama, what does this all mean for China... Full story>>
IMF urges more debt analysis in advance economies
The IMF is also calling for expanded analysis of growing debt piles in advanced economies. A report from the fund states huge increases in the debts of developed economies have highlighted the need to look at how the IMF assesses a country's debt sustainability... Full story>>
4. Nations in debt:
US: WB chief urges US to reign in debt
Zoellick is also calling on the U.S. to slow down the growth of its debt, and for Asia's developing countries to create investment that would also benefit the West... Full story>>
Japan PM determines to curb debt
New Japanese Prime minister Yoshihiko Noda is pledging tax and fiscal reforms.During his first policy speech in parliament, Noda says the government and the central bank need to do all they can to tame the yen's strength... Full story>>
S. Korea: S. Korea's sovereign debt risk spikes to 15-month high
The cost of insuring South Korea's sovereign debt against default spiked to a 15-month high, local media reported Thursday... Full story>>
Implementation of Italy's reforms crucial: Van Rompuy
Italy looks like it could be the next domino to fall. European Council President Herman Van Rompuy says Italy's reform is important not only for the country itself, but for the eurozone as a whole... Full story>>

France: France sticks to deficit reduction plan
The French government has vowed to stick to its plan, of reducing its deficit, amid concerns, that it could be, the next, triple A economy, to suffer a credit downgrade. President Nicolas Sarkozy on Wednesday, summoned key ministers for an emergency meeting ,to discuss ways to slash huge amounts of debt... Full story>>

Spain: IMF urges Spain to continue fiscal consolidation
The IMF said on Tuesday that debt-burdened Spain needs to continue a series of reforms to improve its fiscal condition and tackle " considerable" risks... Full story>>

Portugal: EU, IMF to complete Portugal bailout review
The European Commission says representatives of the European Union and the International Monetary Fund will wrap up the first review of Portugal's bailout program later Friday... Full story>>
Ireland: Moody's cut Ireland ratings to junk status
Moody's Investors Service on Tuesday downgraded Ireland's foreign- and local-currency government bond ratings by one notch from Baa3 to the junk status of Ba1, saying that the country may need further bailout from international organizations... Full story>>
Related stories
Editor:Li Wanran |Source: CNTV.CN