Watch Video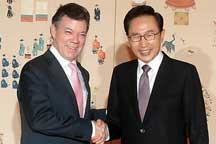 Play Video
Colombia's President, Juan Manuel Santos hopes to further negotiations for a free trade agreement between Colombia and S. Korea. The two countries are close to signing a free trade agreement. Colombia's President Juan Manuel Santos has made it a goal in his administration to further economic relations with Asia. Former Colombian ambassador to South Korea, Miguel Duran Ordonez, says the agreement is crucial for Colombia to diversify exports.
Miguel Duran Ordonez said, "Colombia needs to expand it needs more markets. We need more providers and more technical assistance. We need more investment and that is why one of the central issues of this government is expend internationally. And S. Korea is one of Colombia's focal points in foreign politics."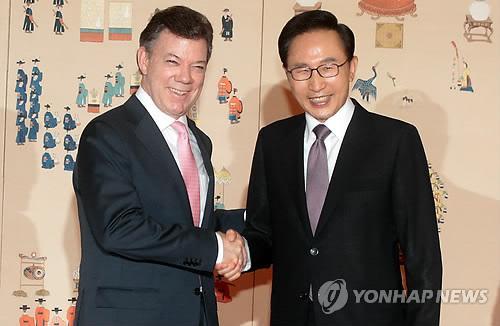 South Korean President Lee Myung-bak (R) and Colombian President Juan Manuel Santos shake hands ahead of summit talks in Seoul on Sept. 15. (Yonhap)
However, most of South Korea's exports to Colombia are vehicles and their parts- the first that concerns Colombia's automotive industry. Colombian car companies say with the FTA this sector will not be able to survive the influx of cheap car imports from S. Korea. It is the 5th largest producer of cars in the world and the 6th exporter.
Juliana Rico, Director of Automotive Chamber, ANDI, said, "This threat to Colombians' automotive sector is due to south Koreas' protection of its automobile industry. It is not compatible to other government practices in the automotive industry world wide."
In Colombia the automotive industry has been operating for more than 50 years. 60 car companies generate 26,000 jobs. Colombians such as Omar have made a career in the industry. Many have worked hard for years and are worried that their future is at risk.
Omar Benigno Fonseca Reujillo, employee at GM, said, "We hope to have an industry that allows many families to depend on these jobs. We want the opportunity to grow and that these families may continue to grow with job stability. We want to be a model for growth in our country and in the industry."
The automobile industry in Columbia insists they are not against all trade with S. Korea, they just hope the government can help fortify and protect this sector. Yet the Colombian government is more focused and eager to strengthen agricultural exports in the Asian Market. With the FTA Colombia also hopes to benefit from electronic imports as well as investments.
Miguel Duran Ordonez said, "South Korean and Asian investors should come to Colombia and be involved in the envelopment of infrastructure, roads and other great public works, These companies, that have the financial backing, can become associates to Colombian business so that both may benefit."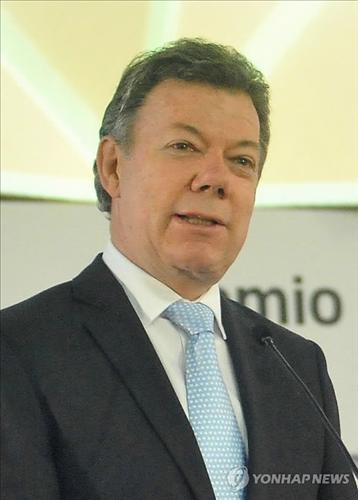 Colombian President Juan Manuel Santos (Yonhap)
Related stories
Editor:Zhang Dan |Source: CNTV.CN