Related reading:
Protests flare as Greece passes unpopular new tax
Greece's ruling party forced through a deeply unpopular property tax on Tuesday to lure international lending inspectors back to Athens to release vital aid, and riot police fired tear gas to disperse about 1000 protesters outside parliament.
The vote was an important test of the Socialist government's ability to push through further belt tightening to win an 8-billion-euro ($11 billion) loan from the EU and IMF that it needs to avoid running out of cash next month.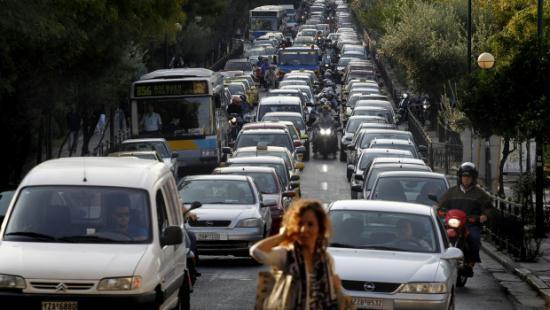 A woman passes a street as motorcyclists make their way through long lines of vehicles in
central Athens Sept. 26, 2011. The Greek capital faced extensive traffic jams due to a
24-hour Metro and tram strikes over financial austerity measures. (AP)
Angry anti-austerity protesters whistled and jeered on the steps of parliament, where all of Prime Minister George Papandreou's 154 Socialist deputies pushed the measure through in the 300-seat assembly.
"The decisions of July 21 are like an institutional Bible to us," Finance Minister Evangelos Venizelos said earlier, vowing to meet the targets of a new bailout deal agreed this summer. "They are the framework within which we move."
The inspectors are expected back in Athens by Thursday and it will be up to them to approve the fresh funds.
The measures have exasperated ordinary Greeks already suffering from several waves of budget cuts and tax rises that have driven unemployment to more than 16 percent and promise to make 2012 the Mediterranean state's fourth year of recession.
"I'm a pensioner, I get 500 euros a month ... This is absurd," said Costas Papaioannou, a 65-year-old retired teacher. "I don't have the money to pay it," he said of the property tax. "Let them come to my house, put me in jail. We have already gone bankrupt anyway."
Bus drivers and metro operators stopped work to protest against austerity measures on Tuesday with tax collectors and some finance ministry officials starting a 48-hour stoppage. More strikes are expected on Wednesday.
Related stories
Editor:James |Source: CNTV