Related reading:
China unveils gold vending machine
CHINA, the world's second largest bullion consumer, has installed the country's first gold vending machine.
Shoppers in the popular Wangfujing Street shopping district in Beijing can insert cash or use a bank card to withdraw gold bars or coins of various weights based on market prices, the People's Daily said on its website.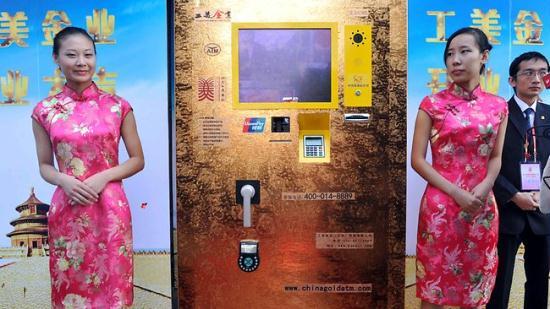 Gold fever: Chinese concerns overinflation has seen the country install its first gold
vending machine Picture: AFP Source: AFP
Each withdrawal is capped at 2.5 kilograms or one million yuan (about $160,000) worth of gold, the report said.
Gold vending machines already exist in Britain, the United States, the Middle East and Europe.
The machine was launched on Saturday by the Beijing Agricultural Commercial Bank and a gold trading company.
They plan to install an unspecified number of machines in secure locations such as gold shops and upmarket private clubs.
Gold is often used as a hedge against inflation and the machines could prove popular among Chinese consumers looking for a convenient way to safeguard their cash amid rising prices.
Start of sidebar. Skip to end of sidebar.
End of sidebar. Return to start of sidebar.
Chinese consumer demand for gold soared 27 per cent year-on-year to 579.5 tonnes in 2010, according to the World Gold Council.
India, the world's top consumer, saw a 66 per cent increase to 963.1 tonnes.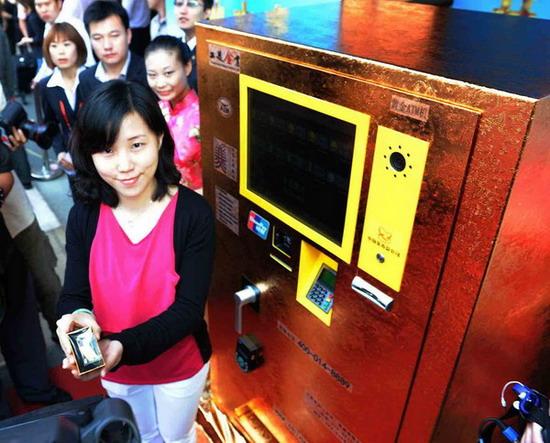 The country's first gold ATM is officially put into use in Beijing's Wangfujing Street on
Sunday. It was shut down again the same day due to technical problems. The machine
dispenses gold bars and coins and is operated by Gongmei Gold Trading. (Photo/China Daily)
Editor:James |Source: CNTV