Related reading:
German exports reach record level in August
German exports rose to their strongest level ever in August, widening the trade surplus more than expected, official data showed on Monday, suggesting Europe's bulwark economy remains on a growth path despite weakening expectations.
Exports rose by 3.5 percent on the month to 90.5 billion euros (78 billion pounds), data from the Federal Statistics Office showed, after faltering in the past few months.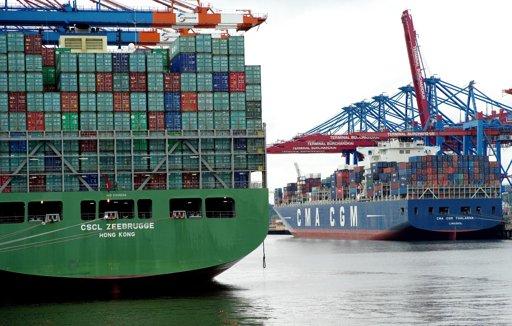 Container ships moor in the harbour in the northern German city of Hamburg. The
German trade surplus grew in August as exports shrugged off the eurozone debt crisis,
at least for now, and rose for the first time in three months, official data showed.
(AFP Photo/Maurizio Gambarini)
"This is good news, again defying recession worries for the German economy -- for the time being -- and showing the third quarter will be better than many people expect," ING's Carsten Brzeski said, noting that he expected 0.4 percent growth in gross domestic product in the third quarter.
"We have seen normalization of exports, if you take the last three months altogether," he added. Exports had fallen 1.2 and 0.5 percent in the previous two months. "The double digit growth numbers are of the past, but stimulus is still coming from emerging markets which continue to catch up."
Imports remained unchanged. The forecasts in a poll of Reuters economists had been for a 1.5 percent rise in exports and 0.6 percent gain in imports.
The seasonally-adjusted trade surplus widened to 13.8 billion euros from 10.6 billion euros in July, compared with a forecast in a Reuters poll of 12 economists for 10.3 billion.
Germany has been one of the industrialised world's star performers since the end of the financial crisis, and its swift recovery has helped stimulate its trade partners.
Data provided by Germany's automotive industry group VDA last week suggested half of new German sales were imports.
"German exports are doing well in countries outside the European Union while at the same time Germany is importing more from the EU," said Holger Schmieding from Berenberg Bank. "There is a rebalancing inside the euro zone."
Recent figures, however, show clouds gathering on the horizon for the country's export-geared economy in view of the twin debt crises in the U.S. and Europe.
Forward-looking indicators have fallen in the last month, with business sentiment dropping for the third month in a row in September and industrial orders slipping unexpectedly in August in a drop in domestic demand.
Related stories
Editor:James |Source: CNTV