Related reading:
China to cut tax on interest from railway ministry

China will cut tax for companies on interest earned from bonds issued by the country's railway ministry, the finance ministry said on Monday, in a move likely aimed at boosting investor demand.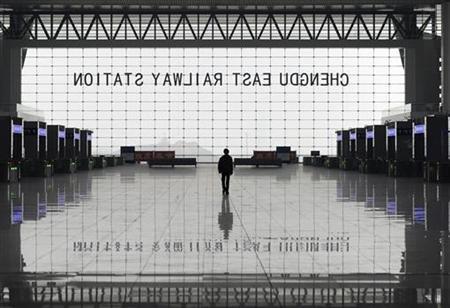 A man walks in the hall of the Chengdu East Railway Station in Chengdu,
Sichuan province February 10, 2011. REUTERS/Stringer
The ministry, which is one of the biggest borrowers in the country's bond market, has come under pressure from investors casting doubt over its credibility and operational ability since China's deadly train crash in July.
Despite rising costs, the ministry plans to sell up to 100 billion yuan (£10 billion) in corporate bonds this year, three sources told Reuters in August, up from 80 billion yuan it sold in 2010.
The new tax rule will target bonds issued between 2011 and 2013, it said in a statement.
Two high-speed trains in eastern China crashed on July 23, killing 40 people and triggering a wave of criticism towards the railway ministry as well as concerns over the reliability of the country's railway systems.
Related stories
Editor:James |Source: CNTV