Watch Video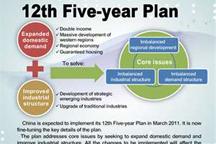 Play Video
American and Chinese academics and policymakers gathered this week to discuss China's 12th Five Year plan, the country's key economic policy objectives, and take a closer look at China's efforts to develop a green economy.
Former Vice-Chairman of the Standing Committee of the National People's Congress, Cheng Siwei, attended the seminar.
China's 12th Five Year Plan, unveiled in March 2011, sets a master agenda for economic development. The blueprint includes policy objectives for the next five years, and detailed guidelines for key sectors of the economy.
One major objective of the plan is to rebalance the economy, primarily by emphasizing domestic consumption over China's current model of export-led growth.
Cheng Siwei, former vice chairman of the Standing Committee of China's NPC, presented his views on China's economic goals.
After 25 years of market reforms, China's economic planners have begun to confront new challenges. They're starting to rethink the country's export-led growth model, in favour of encouraging domestic consumption and managing the often-complicated side effects of rapid economic growth.
Kenneth G. Lieberthal, senior fellow from the Brookings Institution raised concern about China's trade relationship with other countries.
China has been the U.S.'s fastest growing export market for the past decade. U.S. exports to China increased by almost 500 percent from 2000 to 2010, while its exports to other countries increased only by 55 percent.
Cheng also reiterated mutual trust and understanding is very crucial when it comes to China - U.S. economic development. He says, the two nations should work together to advance mutual economic interests.
Related stories
Editor:Zhang Rui |Source: CNTV.CN