Watch Video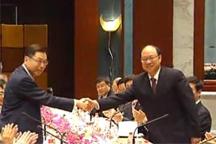 Play Video
An economic and trade office between the Chinese mainland and Taiwan could be set up as early as the first quarter of 2012. It's aimed at boosting bilateral ties, and was proposed at the second meeting of the cross-Strait Economic Cooperation Committee, held Tuesday in Hangzhou.
The ECC's second meeting in the capital of east China's Zhejiang province, was co-hosted by Zheng Lizhong, vice president of the mainland's Association for Relations Across the Taiwan Strait, as well as Taiwan's Strait Exchange Foundation Vice Chairman, Kao Koong-lian.
Zheng reviewed the progress made on bilateral economic and trade ties, since the establishment of the Economic Cooperation Framework Agreement. He proposed the mainland and Taiwan should map out a pattern to benefit both sides.
Kao echoed Zheng's view, adding that both sides had agreed to set up an economic trade office.
Kao Koong-lian said: "Both sides have reached an agreement on the establishment of an economic and trade office through the ECC platform, to boost trade ties."
Taiwan's senior economic official, Francis Liang, was the chief representative at the meeting. He expects the office to be set up in the first quarter of 2012. He said: "The office should serve businesses and investments on both sides of the Strait. And we hope qualified applicants will have over five year experience of doing business. We also hope the office will be able to cover businesses across the whole country. We expect it to be set up in the first quarter of next year."
According to a report issued at the second meeting of the ECC, the so-called "early harvest program" worked well in facilitating both goods and service trade, benefiting small- and medium-sized service providers in particular.
The report also highlighted the results of tariff cuts, with duties worth more than 108 million U.S. dollars exempt during the first nine months of the year.
Editor:Zhang Rui |Source: CNTV.CN