Watch Video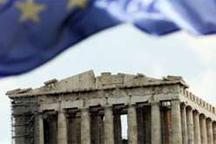 Play Video
Wall Street suffered after the Greek government's announcement of a referendum on the bailout plan. Some investors are concerned the move is bringing volatility back into the financial markets, and even more uncertainty to the global recovery. Major indices across the world also tumbled on the news.
Mayhem in the markets.
Wall Street suffered its worst two-day slide since September as political uncertainty in Greece threatened to derail a Greek bailout plan put together less than a week ago.
Oil prices headed lower for the third time in four days. And gold futures were down for a third day in row, hovering around the $1,700 mark.
Greek Prime Minister George Papandreou says he will hold a referendum even though he faces a no confidence vote later this week. Papandreou wants citizens to vote on the bailout plan, which is very unpopular with the public.
Investors are again afraid of a repeat of recent history, says Jeffrey Kleintop of LPL Financial.
He said: "This move by Papandreou does raise the risk of a 2008-like financial crisis, as a sudden shock to the system after we thought we had a deal. You could have a sudden default, much greater losses than a 50 percent haircut on Greek debt. It could be 100 percent losses."
Kleintop predicts the Greek bailout will be saved, but Europe's economies - that's a different story.
Jeffrey Kleintop said: "The overall European economy likely to be in recession in the year ahead, it's more about the contagion of that into the banking sector and perhaps other U.S. financial securities that's raised the concern for U.S. investors."
And there are already renewed concerns about the world's economy. Growth in the global manufacturing sector slowed in October. Here in the U.S. a measure of factory employment dropped to its lowest in about two years.
When the dust settled the Dow was down 2.5 percent, the S&P 500 down 2.8 percent and the Nasdaq down 2.9 percent.
But that was nothing compared to Europe. Stocks in Germany were down five percent, France lost 5.4 percent, but the UK was down only 2.2 percent.
Editor:Zhang Rui |Source: CNTV.CN