Watch Video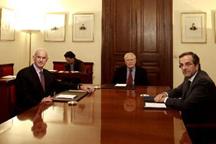 Play Video
Greek embattled Prime Minister George Papandreou has reached an initial agreement with Antonis Samaras, head of the main opposition party, to form an interim government. Papandreou is due to step down and will not lead the transitional government, one of the key conditions of the agreement. The two will meet again today to discuss who will become Greece's next Prime Minister, and who will serve in the new government.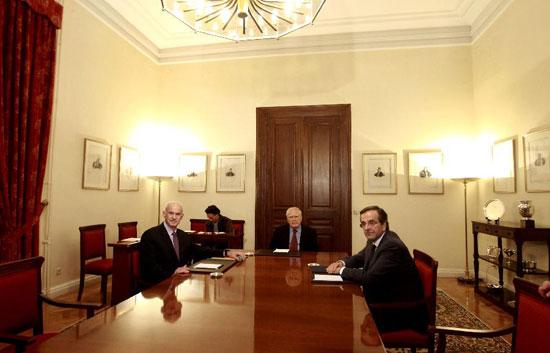 Greece's Prime Minister George Papandreou, left, Greek President Karolos Papoulias, center
and opposition leader Antonis Samaras sit at the Presidential Palace in Athens on Sunday,
Nov. 6, 2011. Greek Prime Minister George Papandreou and opposition leader Antonis Samaras
have agreed on a new coalition government to approve a euro zone bailout deal before
elections, the office of the country's president said on Sunday. (Xinhua/Reuters Photo)
Finally, some political consensus has been reached in debt-ravaged Greece. After talks on Sunday chaired by Greek President, Karolos Papoulias, an initial agreement has been reached between Prime Minister George Papandreou and his former college roommate and now political rival, Antonis Samaras, who heads Greece's main opposition party.
Greek government spokesman Elias Mosialos said : "Of course it's a breakthrough. It's an historical day for Greece. We will have a coalition government very soon, early next week. The Prime Minister and the leader of the opposition will discuss tomorrow the name of the new Prime Minister and the names of ministers."
Papandreou has made clear that he will not head the interim government. But that's on the condition the 130 billion euro bailout deal is approved, and the next loan installment is received, without which the country will default within weeks.
To ensure less political uncertainty for the markets, a government spokesman says any election for a new Greek government will be held only after the approval of the EU bailout package.
"No there is not going to be an election in the very near future, but there will be an election after the implementation of the agreement of the 26th of October. After that, full implementation of the agreement."
Greece is anxious to reach a quick agreement on a new government, as it faces a meeting of eurozone finance ministers in Brussels today. Finance Minister Evangelos Venizelos is likely to remain in his current position, while candidates for the Prime Minister's job include former Foreign Affairs Minister, Petros Moliviatis, and former Vice President of the European Central Bank, Loukas Papademos.
Related stories
Editor:Zhang Rui |Source: CNTV.CN