Watch Video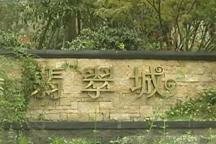 Play Video
If you've been following China's property market, you would know just how much pressure developers are under right now. Take Greentown for example - it's the largest real estate company in Hangzhou, capital city of eastern China's Zhejiang province. The developer has been severely troubled by the capital crunch, following the government's tightening policies. Rumors are abound that Greentown is on the brink of bankruptcy, and that e-commerce site Alibaba.com will help out.
On November 4th, Alibaba.com employees were told they could group purchase homes developed by Greentown. The scheme offers an eight percent discount, and the deadline for purchases is November 15th.
Many wondered whether the announcement was part of an emergency rescue plan for Greentown, with the company plagued by capital shortages for some time. But the property giant refuted the rumor, saying it's a helping hand rather than a bail-out.
Fu Linjiang, General Manager from Greentown, said: "We have a good relationship with Alibaba.com, so we would like to offer discounts to its employees when they group purchase homes. It's mutually beneficial."
The promotion is limited to three home projects in Hangzhou, all of which are adjacent to either Alibaba.com headquarters, or the newly-built Taobao City. Some analysts say the group purchase will generate demand of more than 10 thousand homes.
Alibaba.com has nearly 20 thousand employees in the city, the majority of which are first home buyers with strong purchasing power. In addition, the company has set up a fund of three billion yuan to offer zero-interest loans to boost demand for homes.
But Greentown hasn't set a target, despite the high market expectations.
Fu Linjiang said: "The group purchase plan will certainly boost sales. But we don't have very high expectations. Actually our daily trade volume is still fine."
Currently, Alibaba.com employees are inspecting the home projects on offer. But many say, they're not in a rush to make any decisions.
Editor:Zhang Rui |Source: CNTV.CN