Watch Video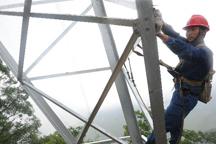 Play Video
As winter begins to take hold, many provinces and cities in central and eastern China are facing power shortages. Coal supplies for thermal plants are expected to fall short in the season, and the coming spring. The gap is expected to reach 15 million kilowatts, and will be the most severe on record.
In central and eastern China's Hubei, Hunan, Jiangxi, Henan, Anhui provinces, and southwest China's Chongqing Municipality, the shortage of power for the winter and coming spring is starting to get serious - around 15 million kilowatts. That's mainly because thermal coal in these regions is falling short. The extreme winter weather has disrupted coal supplies and prompted a spike in energy demand.
Li Yong, Central China Deputy Chief from Power Dispatch Center of State Grid Corporation, said: "Coal stock was good in the Central China Power Grid previously. We had 850 thousand tons coming in each day. But now we only have 670 thousand tons coming in each day. Currently, the coal in stock is much less than expected."
The shortage in Hunan Province will be particularly serious. According to the State Electricity Regulatory Commission, the shortage will be up to 5 million kilowatts during this winter's peak period. That's nearly one third of the total shortage in central part of the country.
Li Yong said: "The coal in stock in our major thermal power plants has been low. Also, production in some major hydropower plants in the winter will be less effective. Power shortage in Hunan Province will be the most severe."
To stabilize and guarantee power supply, Li says the government is taking a variety of measures, including boosting power supply from outside the region, and balancing supply and demand among provinces. They're also urging thermal plants to be better structured, and improve stock volumes.
Editor:Zhang Rui |Source: CNTV.CN