Watch Video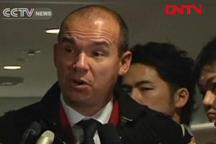 Play Video
The Japanese markets were closed today for a national holiday, but we do want to give you an update on the Olympus story we've been following. The company's Former CEO Michael Woodford arrived in Japan on Wednesday ahead of a board meeting that will take place two days later.
This is Woodford's first return to Japan since his sacking as CEO a month ago. He urged Tokyo police to look into the mess as speculation mounts of possible links to organized crime.
Olympus CEO Michael Woodford has been "demoted"
for questioning the company's fee arrangements
in earlier takeovers.
Woodford himself is the one who blew the whistle on the company's accounting scandal. The firm on Monday announced a third-party panel to investigate the matter.
So far, no evidence has been found to support the allegations, but the final result will likely come out by December.
Woodford is also calling for a change in management, either with him or not. He hopes Olympus would remain listed, despite losing two-thirds of its market value once the scandal broke.
Woodford said: "What we should say now is this is what we know and this is what we're doing. We should include a forensic review of all the transactions which would establish which parties we worked with and which monies went to them. And I would hope that if there was a confidence in the board, whatever may come out, that could stop delisting. At the moment, if we are saying we don't want anything explored because that would stop delisting then that's the wrong way to go about it. That would just store problems up in the future."
Editor:Zhang Rui |Source: CNTV.CN