Watch Video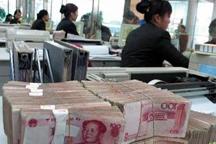 Play Video
China's central bank clarified that its recent move to revise reserve requirements for several rural banks in Eastern China's Zhejiang Province does not amount to a cut in their required reserve ratio. The pullback of half a percentage point will put those six banks on equal footing with their peers, at 16 percent for their required reserve ratio.
The latest move by the People's Bank of China will reduce the percentage of deposits lenders are required to park with the central bank, to 16 percent. But the central bank is quick to say - this isn't an indication of monetary easing, but a move to bring down the reserve ratio of certain rural banks in line with their national counterparts. In fact, the central bank's Zhejiang branch has been quoted as saying the adjustment had kicked in automatically, after a one-year policy plan expired this month.
The central bank will review the credit situation of rural banks after the first three quarters of the year, in November. The PBOC says, it will raise their reserve requirements by 50 basis points if the banks fail to lend enough to rural farming businesses. It reiterates, the decision shouldn't be seen as cutting of reserve requirements for the six banks. But many analysts view this as the start of a shift allowing greater credit growth, as the Chinese economy slows.
China's GDP rose by 9.1 percent year-on-year in the third quarter of 2011, down from 9.5 percent growth posted in the second quarter, and 9.7 percent in the first quarter of the year.
The country's exports rose almost 16 percent in October, the slowest pace in five months.
China's manufacturing Purchasing Managers Index, a gauge of nationwide manufacturing activity, fell to 48 in November from 51 in October.
A string of weakening key economic indicators have reignited market speculation that the central bank will be forced to ease its monetary policy to counter the impact of a sluggish global economy.
Analysts note though, despite the uncertainty of the world economic recovery and domestic growth, the central bank has reiterated many times it will continue its prudent monetary policy. It's said in the past, it intends to make full use of its monetary tools to promote reasonable credit growth and encourage financial institutions to increase support for rural residents and middle- and small-sized enterprises.
Editor:Zhang Rui |Source: CNTV.CN