Watch Video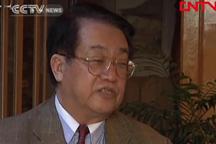 Play Video
Last year, investment in renewable energy totaled 187 billion US dollars compared to 157 billion dollars for fossil fuels. The remarkable progress of the industry is raising the stakes in the Sino-US solar battle. Some worried that a fresh round of trade wars is underway.
China is preparing for the worst, as the US investigates Chinese solar panel imports.
A professor at Tsinghua University says the U.S. is starting a new round of assault on Chinese industries.
Professor Zhou Shijian from Tsinghua University's Sino-US Research Center said: "From traditional products to modern high-tech innovations, renewable energy...the United States is attacking Chinese industries layer by layer."
The Chinese solar panel industry depends heavily on the overseas market, with more than 95 percent of its products for export to the US and European markets. Analysts warn that any tariffs imposed on these products, regardless of the amount, could inflict huge damage on the industry.
Professor Zhou said: "Actually, everybody is developing renewable energy. China's solar panel industry, established in 2004, has made significant progress in this field. And the U.S. wants to take over the entire high-tech renewable energy industry's dominant position. Therefore it blocks China, but actually the US wants to restrain China."
Other experts say China's position in the global market is very competitive.
Zhao Yuwen, vice president of China Renewable Energy Society, said: "For latest international solar panel rankings, the first, third, fourth and fifth are all Chinese mainland firms. And the second position was a U.S. company. This shows China is competitive on the world stage. "
The American committee is scheduled to vote on December 2nd on whether to proceed with the investigation. The United States International Trade Commission will report the results of the vote to the Commerce Department on December 5th.
Related stories
Editor:Zhang Rui |Source: CNTV.CN