Watch Video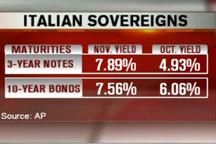 Play Video
Italy has auctioned three and ten year sovereigns at record yields.
Yields on three-year notes soared to 7.89 percent, nearly three percentage points higher than last month, that's even higher than yields on its 10-year bonds, which auctioned off at 7.56 percent, suggesting funding costs are becoming unsustainable.
Even so, the Italian treasury sold off all its debt, but analysts say the bid-to-cover ratio, a measure that gauges the demand for a particular security, was weak overall. The ratio on the three-year note came in at 1.5 while demand for the ten-year came in at 1.3. A ratio below two is an indication of a weak auction - so there's your silver lining, as small as it may be.
The results will ramp up more pressure on Prime Minister Mario Monti, whose new government promised to get Italy's fiscal house back in order. With such high yields, analysts expect the ECB to become very active in the secondary bond markets this week, purchasing Italian bonds in order to drive yields down.
Related stories
Editor:Zhang Rui |Source: CNTV.CN