Watch Video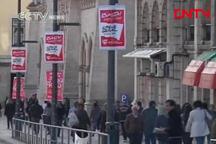 Play Video
The Portuguese parliament is set to vote on controversial austerity measures, conditions the country must fulfill to receive foreign aid. The proposed measures not only triggered a major strike last week, but are also changing the attitudes of ordinary Portuguese on the European Union and the eurozone itself.
A recent survey by the University of Lisbon shows 20 percent of the one thousand local residents polled, are questioning whether the country should continue to stay in the eurozone.
Meanwhile, around 35 percent of respondents are negative about Portugal joining the European community, and more than half say Europe's aid cannot solve the nation's debt problem.
Analysts say the survey results reflect residents' disappointment over financial aid from Europe, and a pessimistic projection of the eurozone economy. A professor from the University of Lisbon says Portugal should not leave the European Union, but it remains a question whether it should stay in the eurozone.
Professor Eduardo Paz Ferreira from University of Lisbon said: "Well, the first question is about whether the European Union will survive and the eurozone will survive. If so, Portugal will stay. But at this moment, it's still not clear. Things change from day to day. Possibility the eurozone become stronger and Portugal will stay."
While politicians and economists argue about helping Portugal, many residents seem set in their opinions.
Local resident in Lisbon said: "I'm thinking about France. I know there, I lived there."
Another resident said: "At this time, I'm thinking go to Holland. I already lived there. I know problems are everywhere in Europe. But about this country, I have no idea."
The latest EU projection indicates the Portugal economy would dip to its lowest point in 2012, as the annual GDP will contract three percent.
Editor:Zhang Rui |Source: CNTV.CN