Watch Video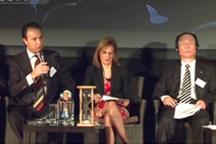 Play Video
The European debt crisis also topped the agenda at a forum on China-Europe relations, held in Brussels this week. EU representatives are pushing for more exports to China - Europe's largest trading partner - in order to improve the region's economic woes.
Chinese and European leaders called for strengthened cooperation at Tuesday's EU-China forum in Brussels. It's the first such event to be held, and the focus was on improved trade flow. The sprawling European debt crisis has wrecked havoc on regional economies and consumer confidence. But European policymakers are hoping boosting exports to emerging countries like China, will hold the answer to its economic woes.
German representatives at the forum say, their businesses are suffering from the downturn in Europe and the U.S. But when it comes to emerging markets like China, the profit growth is constant. A senior researcher from China's top economic planning body says the country's economic growth over the next five years bodes well for European exporters.
Wang Yiming, vice president of Academy of Macroeconomic Research, NDRC, said: "I believe China's economic development will attract more exports from Europe. In five years' time, the total value of China's imports will be more than eight trillion U.S. dollars."
European products have found solid footing in the rapidly-expanding Chinese market. Attendees at the forum noted, China's burgeoning consumer population is set to provide huge opportunities for European producers.
Editor:Zhang Rui |Source: CNTV.CN