Watch Video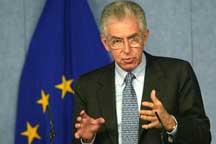 Play Video
Italian Prime Minister, Mario Monti, has unveiled a 40 billion U.S. dollar austerity package. The plan includes raising taxes and increasing the pension age, and are part of a drive to shore up Italy's strained finances and stave off the debt crisis.
Monti says the package is painful but necessary, and he will give up his own salary as part of the effort. Under the austerity plan, Italy will raise the minimum pension age for women and men to 66 by 2018, and will scrap annual inflation adjustments for many pensions.
European and U.S. leaders fear the shock waves from any Italian debt default could trigger a financial and economic meltdown in Europe and push the global economy into recession.
Mario Monti said, "I take this occasion, even if this is not part of the measures adopted today, to say that, considering the role of the real economy and the role of finance, that we do not intend to demonize, I think we need to seek a better balance between real, productive economy and financial economy. I have initiated a reconsideration of Italy's position within Europe, moving more in favour of the proposal of taxing financial transactions, as already France and Germany consider a necessary step."
Editor:Liu Fang |Source: CNTV.CN