Watch Video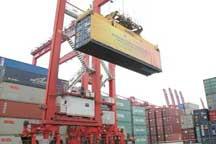 Play Video
10 years on. Membership to the World Trade Organization has transformed the landscape of China's economy. The upcoming December 11th anniversary marks a decade since China's accession to the WTO.
Being a WTO member has provided a more transparent, secure, and stable global market for Chinese enterprises. At the same time, China has become an important part of the world economy, providing huge market opportunities for other WTO members.
Hisense - one of the leading Chinese consumer electronics companies, ranks in the top seven companies for global shipments of LCD TVs in the third quarter this year.
The company entered the South African market in 1996, and has since become a popular brand of home appliances for local consumers. In this electronics store in Johannesburg, sales of Hisense TVs account for 40 percent of the shop's total sales.
Closer to home, Chinese businesses have also increased their presence. In this industrial park in Thailand, there are over 36 Chinese enterprises that have invested and built factories here. Their operations have created over 2000 jobs for local workers, and has also boosted the country's production output.
10 years ago, just a third of today's businesses were registered in Thailand. And they were mostly focussed on trade and transport services.
Gao Wenkuan, economic & commercial counsel of Chinese Embassy, Thailand, said, "There are more and more Chinese companies here now. According to statistics, there are around 500 Chinese-registered enterprises here in Thailand."
Chen Lin, commercial counsellor of Overseas Invest. & Economic Cooperation, MOFCOM, said, "Greater internationalization of Chinese enterprises means more efficiency in terms of the allocation of global resources."
Over the past 10 years, China has comprehensively implemented the liberalization commitments required by the WTO.
Tariff and non-tariff restrictions have significantly decreased.
China's foreign trade continues to grow rapidly. Total volume of imports and exports upon China's accession to the WTO in 2001 was only 500 billion U.S. dollars; by 2010 this had grown to almost three trillion U.S. dollars.
Editor:Liu Fang |Source: CNTV.CN