Watch Video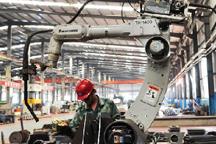 Play Video
Global manufacturing and service activities are showing the strains of escalating debt problems in Europe and the United States.
November's PMI figures from around the world indicate a general slow-down. We start with the latest from China.
China's non-manufacturing PMI includes services and property - everything that is not produced by factories.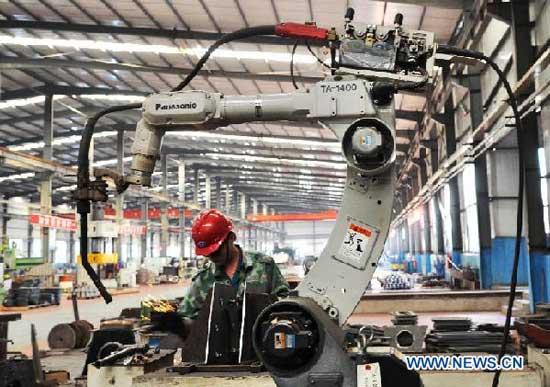 A worker operates an automated welding machine at a workshop in Zouping County, east
China's Shandong Province, Oct. 24, 2011. China's Purchasing Managers' Index (PMI)
dropped to 50.4 percent in October after rising for two consecutive months, down 0.8
percentage points from September, the China Federation of Logistics and Purchasing
(CFLP) said Tuesday. (Xinhua/Dong Naide)
According to HSBC, this gauge dropped to 52.5 in November, from last month's reading of 54.1. The sharp fall echoes China's official reading, which indicated an even bigger decline to below the 50 point mark that separates expansion from contraction in the sector. It represents its slowest pace in three months. Analysts point to seasonal factors and the cooling property market as a reason behind the disappointing figure.
Cai Jin, vice chairman of China Federation of Logistics & Purchasing said: "From June, the growth of investment kept decreasing. And this affected the non-manufacturing sector, especially the building industry. Therefore building and real estate business indices have declined. And also due to off-season, there is a decline in retail consumption. The winter season has made it difficult for builders in Northeast China to work, hence a drop in building business."
China's official figure puts more emphasis on bigger state-run companies, whilst HSBC data reflects the business activities of small- to medium-sized firms. Though the readings raise concern about China's economic outlook, some analysts are reluctant to read too much into it. Past performance suggests that half that decline will be recovered in December, leaving the index in the mid-50s range.
Editor:Zhang Rui |Source: CNTV.CN