Watch Video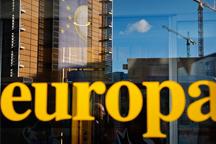 Play Video
All eyes are on whether the Franco-German agreement will be passed at the EU leaders' summit on Friday. French President Nicolas Sarkozy and German Chancellor Angela Merkel have released a copy of their proposal to enforce tighter budget rules. However, some of their government officials say they fear a comprehensive deal might not be reached at the summit.
Pessimistic comments from EU paymaster Germany and new figures exposing deepening stress among Europe's banks lowered financial market hopes of a turning point in the euro zone's debt crisis at a summit this week.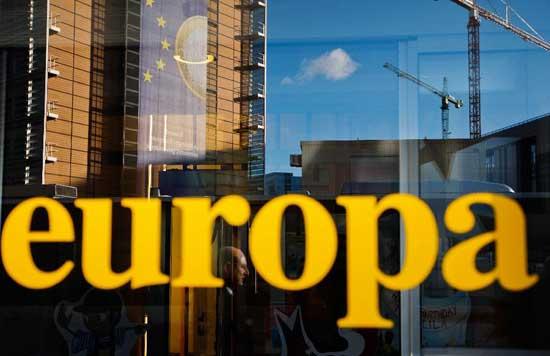 A man walks past a giant euro banner reflected in the window outside the European
Commission headquarter building in Brussels, capital of Belgium, Dec. 6, 2011. EU
leaders will gather during this week's summit in Brussels, struggle to forge an
accord on ways to tackle the region's debt crisis. (Xinhua/Zhou Lei)
President Nicolas Sarkozy and Chancellor Angela Merkel detailed their plan to amend the EU treaty to anchor stricter budget discipline in the euro zone in a letter to European Council President Herman Van Rompuy on Wednesday.
But deep divisions among the EU countries, including Britain, spell trouble for the proposal, launched amid unrelenting pressure in the bond markets that have driven borrowing costs for embattled governments sharply higher.
Ratings agency Standard & Poor's has threatened to downgrade the bonds of all EU countries because their economies were intricately linked with those in the eurozone. That would likely make it more expensive for governments to borrow.
U.S. Treasury Secretary Timothy Geithner, whose fourth trip to Europe in as many months speaks of the alarm in Washington at the damage the debt crisis could wreak on the U.S. economy, backed the Franco-German plan to impose mandatory penalties on euro states that exceed deficit targets.
Europe's crisis now is as much political as economic. It stems from a legacy of overspending and over-borrowing, but in a region of vast financial means, it also reflects a lack of investor faith in the will of financially solid nations such as Germany to unite behind their troubled neighbors to shore up the currency union.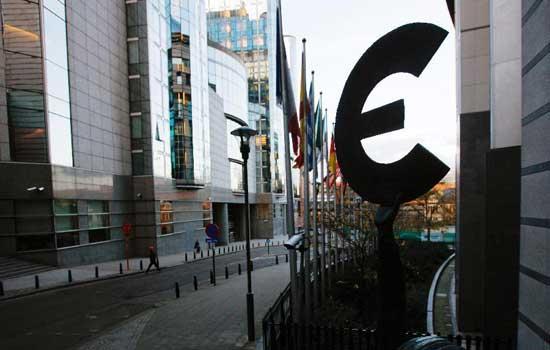 Pedestrians pass a statue holding the symbol of euro, outside the European Parliament
building in Brussels, capital of Belgium, Dec. 6, 2011. EU leaders will gather during
this week's summit in Brussels, struggle to forge an accord on ways to tackle the
region's debt crisis. (Xinhua/Zhou Lei)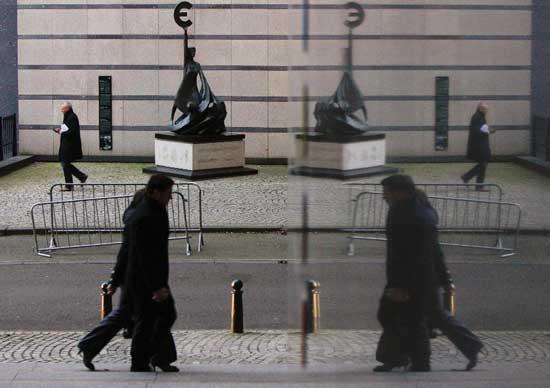 Pedestrians pass a statue holding the symbol of euro, outside the European Parliament
building in Brussels, capital of Belgium, Dec. 6, 2011. EU leaders will gather during
this week's summit in Brussels, struggle to forge an accord on ways to tackle the
region's debt crisis. (Xinhua/Zhou Lei)
Editor:Zhang Rui |Source: CNTV.CN