Watch Video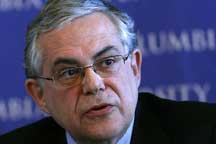 Play Video
The Prime Minister of Greece, Lucas Papademos says his country is currently facing its worst year of recession. But, he forecasts the country could be on the way to recovery by 2013. He's also calling for fiscal and structural reforms, which he says are crucial to the country's economy.
Lucas Papademos said, "Greece finds itself in the deepest stage of the recession. Fiscal reform constitutes a painful national effort. Fiscal and structural reforms are necessary for the investment environment, and a precondition for the recovery of the economy. Progress in this area is not only a necessity for growth but a precondition for Greece to remain a participant in the institutions of the European Union and the euro. There are however encouraging signs that lead us to expect a return to positive growth in 2013."
Papademos also says joint euro zone bonds will be discussed in upcoming European Union summits, as part of the bloc's response to the debt crisis threatening the single currency.
The International Monetary Fund expects Greece's economy to contract by six percent in 2011 and by three percent in 2012, in what would be its fifth year of recession.
Editor:Liu Fang |Source: CNTV.CN